Surprise, It's Eminem
Eminem Shows Up For The 2020 Oscars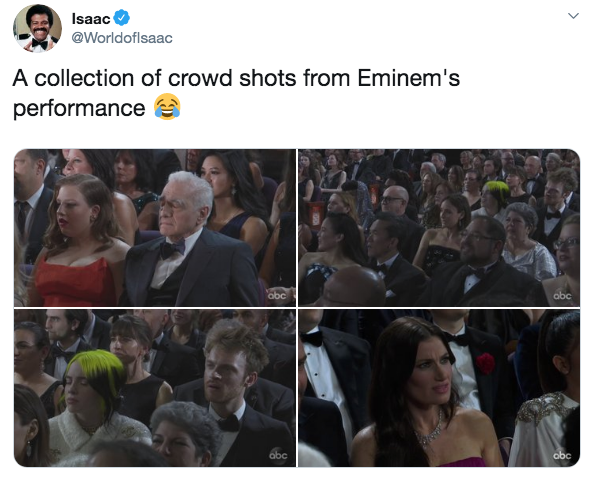 Eminem won an Oscar in 2003, but unfortunately, didn't show up, so his producer and friend, Luis Resto, accepted the award for him. On the Sunday of the 2020 Oscars, he showed up and sang his award winning song "Lose Yourself" from "8 Mile." Eminem explained his absence from the 2003 oscars and why he showed up to the 2020 Oscars on Sunday.
The Wrap claims Eminem said, "I just felt like I had no chance of winning because, you know, when I heard I was nominated, I thought that it was for actors. I was not sure what exactly Grammy or Oscar meant, what certain awards meant, I was not sure what they meant, so even MTV awards, all that stuff, I just didn't know what awards meant and this particular award…I didn't go to the show… I just felt like I had a snowball's chance of hell of winning," said Eminem in an interview with "Behind the Boards" back in 2007.
When an entertainment interviewer asked why he showed up to this Oscars to perform and not the one he won. Eminem states "I kinda figured maybe since I didn't get a chance to do it at the time, maybe it would be cool. Back then, I never even thought that I had a chance to win, and we had just performed 'Lose Yourself' on the Grammys with the Roots a couple of weeks before the Oscars, so we didn't think it was a good idea," he said in a new interview with Variety. "And also, back at that time, the younger me didn't really feel like a show like that would understand me.
Eminem tweeted after performing at the Oscars "Look, if you had another shot, another opportunity," he tweeted. "Thanks for having me @TheAcademy. Sorry it took me 18 years to get here."