The Xtreme Continues
The XFL Football League Returns A Decade And A Half Later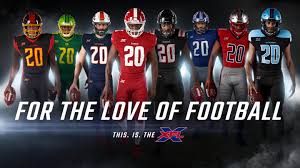 The XFL has returned after a decade and a half absence. In 2019, WWE chairman Vince McMahon announced the return of the XFL for 2020, in which the return was better than anyone could expect. With the professional football league's return, eight new teams were announced as the Dallas Renegades; Houston Roughnecks, Seattle Dragons, St. Louis Battlehawks, Los Angeles Wildcats, (Washington) DC Defenders, New York Guardians, and Tampa Bay Vipers. 
Saturday, February 8, was the beginning of week one for the XFL season having the DC Defenders defeat the Seattle Dragons 31-19. Also on Saturday, the Houston Roughnecks defeated the LA Wildcats 37-17. Dividing their games to have two on each day of the weekend, Sunday faced two games as well. The Tampa Bay Vipers lost scored the lowest points against the New York Guardians, losing 23-3. A more competitive game happened later in the evening where the St. Louis Battlehawks beat the Dallas Renegades 15-9. 
Over the four games that happened over the weekend, there were multiple things that everyone noticed. During the kickoff, the blocking team against the kickoff team lined up 5 yards away from each other, leaving the kicker and the returner by themselves on their sides of the field respectively. However once the ball is kicked and the returner catches the ball, the blockers and kicking team are then allowed to hit each other. 
Another thing many noticed watching the XFL is that there is no field goal after touchdown. However you are still able to score more points. The teams who scored have three options. They are able to score one point from the two yard line, two points from the five yard gain, and three points from the ten point line. There are still punters and kickers to kick regular field goals, not forcing teams to go for it on fourth down. 
Each game at least had 17,000 fans in their stadiums, the Defenders and Dragons game getting 3.3 million viewers out of both curiosity and love for football.