Boy Scouts file for Bankruptcy After Hundreds of Lawsuits for Sexual Assalut
The Boy Scouts file for Bankruptcy After Hundreds of People Filed for Sexual Assault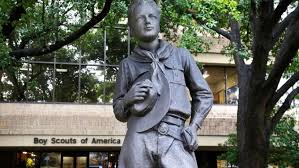 The Boy Scouts of America has gone broke, according to a court document filed in Delaware bankruptcy court early February 18.  The bankruptcy filing comes at a time when the organization faces hundreds of sexual abuse lawsuits, thousands of alleged abuse victims, and dwindling membership numbers. As a result of the filing, all civil litigation against the organization is suspended, CNN reports. Paul Mones, a Los Angeles-based attorney representing "hundreds of sexual abuse victims in individual lawsuits," called the organization's bankruptcy filing a "tragedy."
"While we know nothing can undo the tragic abuse that victims suffered, we believe the Chapter 11 process — with the proposed Trust structure — will provide equitable compensation to all victims while maintaining the BSA's important mission," Roger Mosby, the Scouts' president and chief executive officer, said in a statement. According to the Los Angles Times, The Scout's bankruptcy will probably not affect local activities. It will, however, require new abuse claims to be handled in that venue rather than in state courts.
The Boy Scouts fought the release of some of the files in an Oregon case, in which a jury held the Scouts liable in 2010 for $18.5 million in punitive damages. Two years later, the Oregon Supreme Court ordered that the records in that case be made public, The New York Times states.
According to the Washington Post, Craig Poland, the council's scout executive and chief executive said, "National Capital Area Council, BSA has not filed for bankruptcy. Meetings and activities, district and council events, other Scouting adventures and countless service projects are taking place as usual."
The recruitment for the Boy Scouts has gone down from 2.8 million in 2012 to 1.6 million in 2019, according to The Daily Orange.