15 Inches of Rain Helps put 30 Bush Fires out in Australia
15 Inches of Rain put out 30 Bush Fires and 5 Uncontrolled Fires in the Sydney Area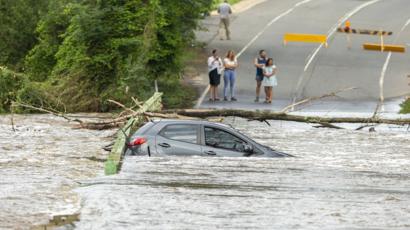 On Monday, February 10, Australia received 15 inches (391.6 mm) of rain. Majority of the rain fell in Sydney causing over 100,000 homes to lose power and many flash flood warnings. It has been said to have been the heaviest rainfall since 1990. The massive amount of rain put out two of the massive bush fires that continued to burn for months. 
According to BBC, The NSW Rural Fire Service (RFS) said,"The rains had extinguished more than 30 fires over the weekend, calling it 'the most positive news we've had in some time.'"
Currently only 17 fires are said to still be burning across the state. Five of which are said to be uncontrolled. 
According to The Guardian, "Dams in the greater Sydney area, where water restrictions have been in place due to the drought, have also received more than their entire annual rainfall for 2019 in the space of a weekend. On Monday, Sydney's water storage levels reached 64%, up 22 points on the previous week."
The heavy rain caused the closing of over 50 schools on Monday and many extended closings throughout the week. It was also expected to put out the five uncontrolled fires in the state.
According to Fox News, "On Saturday, authorities declared the Currowan Fire south of Sydney was finally out after destroying more than 300 homes and razing 1.2 million acres over two-and-a-half months."
Updates on the state of the fires are being made daily in hope to educate on how to stop the spread of wildfires and to hopefully limit the fires in the future.