Kaitlin Bennett Forced off Ohio University Campus
Guns Rights Activist Confronted by Protesters at University Visit
Conservative gun rights activist Kaitlin Bennett, who went viral in 2018 as the "Kent State gun girl," made a surprise appearance at Ohio University, causing hundreds of students to protest her visit. She also called on President Trump to strip federal funding from the university for harboring "terrorists" after she said campus police just "let it happen."
Bennett is calling for President Donald Trump to strip funding from Ohio University after she says a 'riot' broke out when she attempted to record a video on campus with Joel Patrick. The tweet stated, "This is what happens when a Trump supporter goes to a college campus. Leftists at @ohiou [Ohio Universiry] started a riot when @Joelpatrick1776 [Joel Patrick] and I showed up, and the @oupolice [Ohio University Police] let it happen. I think @realDonaldTrump [Donald Trump] should strip funding from universities like this that harbor terrorists."
According to an interview on "Fox & Friends First" with host Heather Childers, Bennett said that her intent was to shoot a "Presidents Day Trivia" video with her friend and fellow Second Amendment supporter (EDIT: Since you already introduced Joel Patrick, you can just say "Patrick.") Joel Patrick when they were confronted by angry protesters on the Athens campus. "So, we were just asking simple questions like, 'Who were the first three presidents?' A mob quickly formed around us. They didn't want me there," Bennett explained.
Bennett is convinced that the crowd around her was a 'riot', stating, "They let their campus riot today against people with…minority opinions. Shame on the Ohio University police for watching this happen. We have footage of a police officer denying me help to my face, up on our YouTube channel," she told Childers. "Any conservative student that goes to that school should fear for their safety," Bennett warned.
After being surrounded on campus by several hundred protesters, Kaitlin Bennett tweeted that she would be returning to Ohio University with "an army of gun owners for an open carry walk through campus." Bennett shared a video of students gathered around the orange truck she was in as it slowly drove through a parking lot, and some threw water at its windows while she filmed them. She accused students of throwing "projectiles" and dumping hot coffee on her.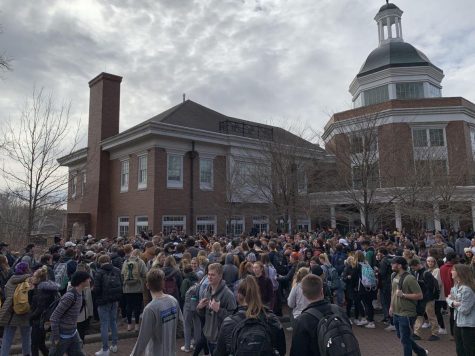 In footage captured by Sarah Donaldson, digital editor for the student newspaper, The New Political, students lined all five floors of the university's student center as Bennett and her bodyguard traveled down the escalator.
Speaking directly to the president, Bennett urged him to "consider what's going on to Trump supporters on campuses all across the United States."
"This is not in a liberal place. This is in the middle of nowhere in Ohio. It's spreading. Your students, your supporters on these campuses, need your help to feel safe on campus and to help you get re-elected," she told him.
The university's administration said that it takes concerns about "complex situations like this" seriously and that its focus is primarily on the safety of students and visitors in a statement. "We are a public institution and we take that responsibility very seriously by respecting the rights of all persons to express themselves in a lawful manner," officials wrote in a statement Tuesday. The school said that while it promotes diversity of viewpoint as one of the institution's educational goals, it welcomes those expressions in "appropriate forums throughout our campuses." 
 "She drew a large crowd of people, many with opposing viewpoints, who also chose to exercise their First Amendment rights," the statement said. "Ohio University police officers were present throughout the incident to protect everyone's rights and safety; other than keeping streets and other public rights of way clear, no police officers asked anyone to leave at any point in time."
Ohio University police denied Bennett's claims that the incident was a 'riot,' posting a tweet which stated, "Contrary to allegations circulating on social media, the incident did not rise to the level of a riot," they wrote. "The officers on duty had to prioritize their response to the events as they unfolded, rightly putting everyone's personal safety ahead of all other concerns."
The statement also noted that, although it's not required, the activist did not give the police prior notice of her plans, depriving "the department of the ability to plan staffing levels."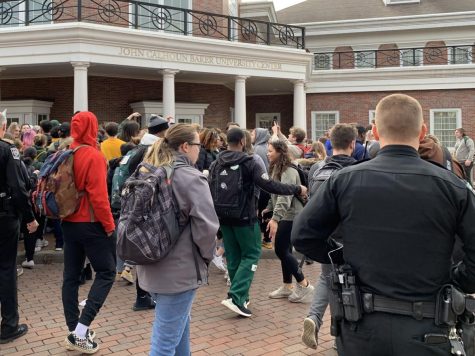 Bennett has gained popularity for her controversial 'Liberty Hangout' show which she hosts out of Kent State University. Bennett's first claim to fame came in May 2018 after she posed with an AR-10 rifle immediately following her graduation from Kent State University, about 40 miles south of Cleveland. Bennett regularly visits college campuses, political rallies and community events like LGBTQ Pride and interviews people for the fringe right-wing website Infowars or Liberty Hangout. Bennett has sparked controversy for her comments about transgender people and has called herself a woman of color.
"I kind of feel like she just came here to get this reaction," sophomore Liam McSteen told the Athens News. "I think it's just kind of attention-seeking behavior. I don't know if she thinks she's going to change anyone's mind out here."
Gabriela Gabennesch, a third-year photojournalist at Ohio University, said that she'd never seen a protest of this size on campus before. Most movements or events are planned out ahead of time, but no one had any idea Bennett was coming until she'd already arrived. "People were skipping classes to come and see her," Gabennesch told CNN. "It definitely wasn't expected that she was going to be on our campus."
She took photos of Bennett and the swarm up close. According to CNN, Gabennesch said no one came near enough to touch Bennett and she didn't seem unnerved. Her security guard would occasionally pick her up to carry her away from crowds.
Things remained civil, Gabennesch said, but the protestors didn't hide their disdain for the campus visitor. "We kind of band together on things like hate speech," Gabennesch said. "I think there are a lot of things that she strongly believes in that a lot of people just don't support here."
Carly Leatherwood, a university spokeswoman, said in an email that the university values the "free and peaceful exchange of diverse thoughts and ideas." 
"The University urges its community to respect the rights guaranteed to all under the state and federal constitutions," Leatherwood said in an email. 
According to Niche.com, 36% of students at Ohio University are liberal, 16% are moderate, and 4% consider themselves conservative.