Christmas Has Come Early at Disney
Christmas Items and Disney Park News.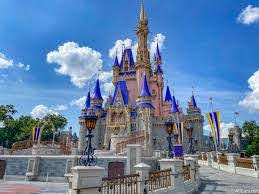 It's only the start of November and Disney has already released new Christmas Merchandise!  In addition to these new items being released, there is also new park info.
According to wdw news, there are newly released Christmas items include a Gingerbread House cookie jar for $49.99, which can be found at Ye Olde Christmas Shoppe in Magic Kingdom; Star Wars Santa hats for $29.99, found at Galactic Outpost in Disney Springs (or 'Downtown Disney' to us older folks). For those who want to celebrate like you are in a Galaxy far far away; and a Light-up Sign that says "Jolly" for $39.99, also found at Ye Olde Christmas Shoppe.There are also youth sweatshirts for $44.99 at the Contemporary Resort.  But the bigger deal is: When will Disney Land open?
According to cnet.com, for months, the question of "When will Disney Land open?" has been on everyone's minds, and we may have an answer soon due to California's approach to Covid-19. On October 20, California, where Disney Land is located, said they will open Disney Land if the area becomes a 'yellow' on the Covid-19 scale, meaning the area would be at moderate risk. But for now, the area is still 'orange,' meaning moderate-high risk. Although it cannot open yet, there is good news: Disney Land will be ready to open when they are allowed to. Like its sister park, Disney World, reservations will be needed and park capacity will be reduced to 25%.
according to cnet.com, across the pond, Disneyland Paris is struggling, too. Disneyland Paris was able to open July 15, 2020, but was closed again on October 29 due to a spike in Covid-19 cases. The park hopes to be open for the holidays, December 19 to January 3, before closing again From Jan 4 to Feb 12.
There is a lot of excitement with the release of the new Disney Christmas items and the possibility of Disney Land re-opening. Additionally, everyone is hopeful that Disney Paris will be able to re-open for the holidays as well.