Poland Court Ruling Bans Abortion
Protests Erupt After ban on Abortion
On October 22, 2020, Poland's parliament imposed a complete ban on abortions, causing tens of thousands of women and pro-choice advocates to take to the streets. On Wednesday, October 28, 2020, there was a nationwide strike to protest the ruling. 
The ruling determined abortions in the case of fetal defects were unconstitutional, according to Insider. "Poland's abortion laws were already some of the most restrictive in Europe. About 100,000 Polish women are estimated to travel abroad each year seeking the procedure", states the BBC. The ban means that abortion is only valid in cases of rape or incest, or to protect the mother's life. Health Ministry figures show that 1,110 legal abortions were carried out in Poland in 2019, mostly because of fetal defects. However, the court's decision halted pregnancy terminations for fetal abnormalities, which is the only type of abortion currently performed in the country. The court's decision stemmed from a legal challenge by MPs from the ruling nationalist Law and Justice party last year (BBC).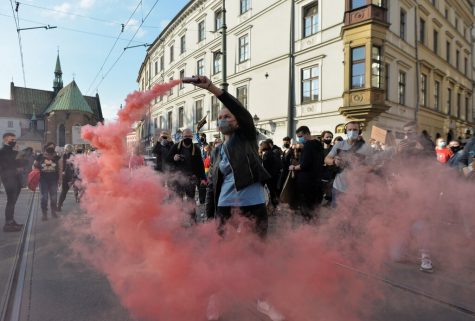 The court's decision on abortion said Marcin Matczak, a constitutional scholar and law professor at the University of Warsaw, "would not be possible without the previous assault on the rule of law." According to the New York Times, the ruling party moved in Parliament to impose an abortion ban twice before, in 2016 and 2018. However, "…it backed off both times after nationwide demonstrations underscored the political cost. This time, the ban came through the Constitutional Tribunal, which is firmly controlled by party loyalists," (New York Times). The widespread outpouring of anger over the past week reflected the pent-up frustration felt by many after watching the steady erosion of institutions meant to safeguard democracy, said Mr. Matczak.
In the ruling, the tribunal's president, Julia Przyłębska, said that allowing abortions in cases of fetal abnormality legalized "eugenic practices with regard to an unborn child, thus denying it the respect and protection of human dignity." Because the Polish Constitution guarantees a right to life, she added, terminating a pregnancy based on the health of the fetus amounted to "a directly forbidden form of discrimination." 
"The Tribunal maintains the position that human life is of value at every stage of development and should be protected," said the court's rapporteur, Justyn Piskorski. "A child in the prenatal period of life, as a human being who is entitled to inherent and inalienable dignity, is an entity having the right to life, and the legal system must guarantee the proper protection of this," he added. The verdict cannot be appealed. (Friedrich Naumann Foundation For Freedom).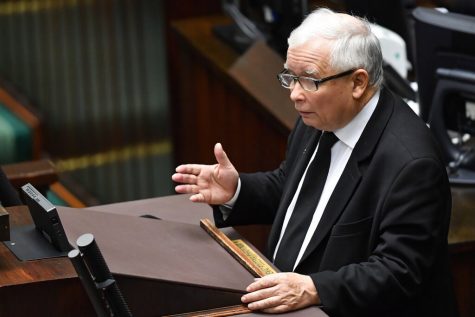 Jarosław Kaczyński, the deputy prime minister and leader of the ruling Law and Justice party, called the protesters "criminals" who are seeking to "destroy the Polish nation," in a speech to Parliament on Wednesday, October 28 (Prawo i Sprawiedliwość). "This is the only way we can win this war," Mr. Kaczynski said. By this date, protests had been going on for six days straight, which even "drew in the Roman Catholic Church, with demonstrators interrupting Mass, vandalizing church facades and staging sit-ins at cathedrals as they held coat hangers aloft to symbolize dangerous abortions," according to the New York Times. A dozen or so women chanted "we are sick of this" while disrupting Mass and held pro-choice banners in front of the altar. Priests were forced to stop the service, then protesters sat on the floor before police officers arrived, said BBC.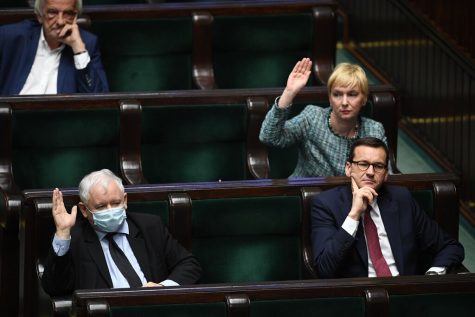 In a park in Krakow, black underwear was hung up on lines between trees, while in Lodz, there was a protest in front of the city's cathedral, where people called for a separation of church and state. Critics of the Catholic Church argue that it exerts too much political influence over government policy in Poland. "I'm here today because it annoys me that in a secular country the church decides for me what rights I have, what I can do and what I'm not allowed to do," one 26-year-old protester, Julia Miotk, told Reuters news agency.
Slogans such as "women's hell" and "unlimited abortions" were painted on church walls in Warsaw. At one prominent church, young men from far-right and nationalist groups stood in front of the entrance, blocking female activists from entering (BBC).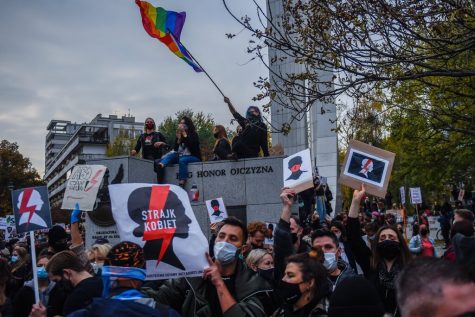 The Associated Press reported that protesters disrupted churches in Poland on Sunday, October 22, during the fourth day of protests. In Warsaw, Gdansk, and Poznan, the police force guarded churches on horseback. Women also protested in smaller towns such as Siemiatycze in eastern Poland, which used to be a stronghold of the Law and Justice party, according to the New York Times.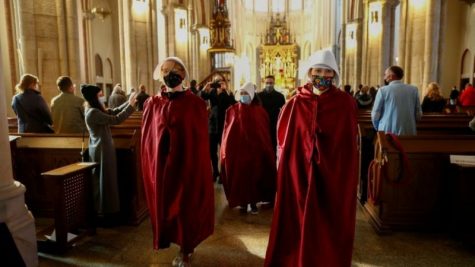 One group of women wore long red robes and white bonnets as they marched into a cathedral, invoking "The Handmaid's Tale" which was a novel and television series that subjugated women (Insider). Some women chanted "we are sick of this" in anger at the country's abortion laws, said BBC.
 In the city of Katowice, a large presence of riot police separated protesters, and police used tear gas against the women's rights protesters after they began to push the police toward the anti-abortion group, an RMF FM broadcaster reported. "At the Holy Cross Church in Warsaw, a group of far-right nationalists blocked stairs leading to the entrance. When one woman managed to push her way through, the nationalists grabbed her and forced her down the stairs," (AP).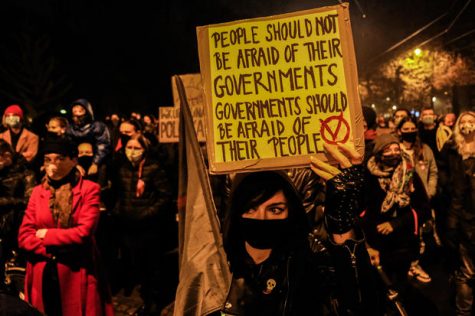 In Warsaw, a large crowd — most of them wearing masks as a precaution against the coronavirus — marched to Parliament, blocking traffic, and chanting "Come with us!" to the people watching from windows and balconies, said the New York Times. Many of the protesters carried signs bearing anti-government slogans and umbrellas, which became the symbol of protests in 2016 against efforts to ban abortion."My uterus is not your playground," one sign read. "I wish I could abort my government," said another.
Reactions in the country have been mixed, according to the AP, which reported one right-wing news outlet's headline said: "Devastated churches, disrupted masses. Scandalous protests by feminists." While one liberal news outlet's headline said: "Aggressive reactions of policemen all over Poland… Scenes like those from Belarus on the streets."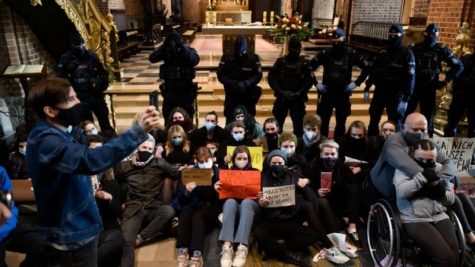 Abortion is a deeply divisive issue in Poland. In a pole surveyed by the CBOS Research Center in 2016 researchers found that 81% of women up to the age of 49 believed that abortion should be legally available if the mother's life is in danger, 70% if the mother's health is in danger, 78% if pregnancy is the result of rape or incest, 52% if the child would be born disabled, 15% if the woman is in a difficult material situation, 12% if the woman is in a difficult personal situation, and 14% if the woman does not want the child.
A 2014 opinion poll by the CBOS Research Center found that 65% of Poles surveyed were against abortion, 27% saw abortion as acceptable and 8% were undecided. However, recent opinion polls suggest a clear majority is against making the abortion law stricter, according to BBC.