Protests Erupt in France
Controversial Bill Limits Police Accountability
BBC
On Saturday, November 28, thousands of human rights advocates took to the streets in France to protest a security bill. This security bill, passed by French lawmakers on Tuesday, November 24, would restrict sharing images of police officers and strengthen government surveillance tools, according to the New York Times. 
Article 24 of the Global Security Bill, which was approved by lawmakers on Friday, November 20, criminalizes the broadcasting of "the face or any other identifying element" of images of a law enforcement officer "with the intent to cause them harm, physically or mentally," stated by CNN. Alarmed by the notions of this bill, media organizations and human rights groups held protests in many cities such as Paris, Bordeaux and Lyon, claiming that the bill would limit freedom of the press and police accountability. 
"Rather than trying to solve problems, this law seeks to cover up blunders," said Nicolas Gonnot, a 50-year-old computer engineer who demonstrated in Paris (New York Times).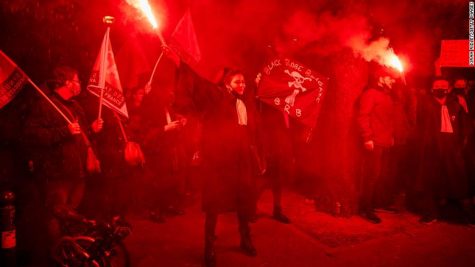 Many protesters waved signs reading "Who watches the watchmen?" and "Democracy under attack." Around 50,000 people participated in the Paris protest, according to authorities. Many of the protests were driven by footage released of three white policemen racially abusing and beating a black music producer, according to the BBC. Authorities said that four police officers were detained for questioning on Friday over the beating of the music producer and were suspended from duty, according to the New York Times. In a statement on his Facebook page, President Emmanuel Macron said that the images of the beating "shame us," adding that "France must never resign itself to violence or brutality, no matter where it comes from."
Because of these protests, French politicians have said that they will be completely rewriting the bill. Christophe Castaner, the head of President Emmanuel Macron's group of centrist MPs in parliament, said Article 24 "will be completely rewritten and a new version will be submitted," according to the BBC. "We know that doubts persist about it," he said, "while we can never tolerate any reduction of press freedom or images. Article 24 would not have affected in any way the spread of those images we've seen in recent days."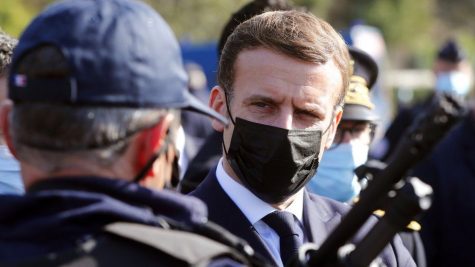 Mr. Macron called for an "urgent need" to reform the security forces. According to the BBC, "He will hold a summit next month to review community relations and the working conditions of the police." In a letter to a leading police union on Monday, December 7, he stated that he wants to move on "quickly and concretely".
"It is urgent to act to beef up the trust between the French and the police," Mr. Macron wrote. "[We must] give police and gendarmes the means to meet their commitments and the expectations of our citizens," he added. "I will intervene personally." (BBC).
According to the BBC, Mr. Macron said next month's summit would bring together senior police officers, citizens and politicians at the headquarters of the interior ministry. They are set to review issues such as police staffing, discrimination training and the use of video cameras during operations. "We owe [the police] support and protection," Mr. Macron wrote. "I will see to it."
On Saturday, December 12, nearly 150 protesters were arrested at a violent Paris protest. French Interior Minister Gerald Darmanin tweeted police had made 142 arrests after "several hundred thugs had come to commit violence."