Europe Begins 2021 in Quarantine
Europe Starts 2021 in Quarantine After new COVID Variant Spreads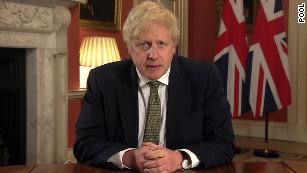 Many European nations have started off the new year in a familiar way, locking down residents and struggling to slow down Covid-19 cases. The strengthening restrictions come as a new variant of the virus causes panic among governments across the nations.
Prime Minister of the UK, Boris Johnson, declared a new strict national lockdown in England on January 8. The restrictions will last for at least six weeks, ending in the beginning of May. (CNN)
"It's clear that we need to do more together to bring this new variant under control while our vaccines are rolled out," Johnson stated in an address to the European nation on January 4.
"In England, we must therefore go into a national lockdown which is tough enough to contain this variant. That means the government is once again instructing you to stay at home," he added.
Covid-19 cases in the UK hit a new record on January 5, with 60,916 new infections reported, government data shows. This means that UK's death toll is now over 97,000.
Johnson re-imposed the measures seen when the first lockdown took place last spring. From midnight local time on January 5, people in England are allowed to leave their homes only for limited reasons like shopping for essentials, exercise, and medical assistance.
Also, according to a new government decree, travel between different regions will be forbidden except for health or business-related reasons. Restrictions have also been enforced on the hospitality industry, with any bars or restaurants only permitted to provide carryout services, with dine-in being banned until notified otherwise.