Capitol Tragedies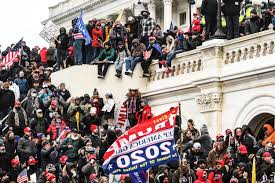 On Wednesday January 6th, a bunch of President  Trumps supporters  stormed the Capitol  building in Washington D.C. , looking for one last try to give Trump and second run for office. The Trump supporters were very violent and led to congressmen and women hiding under desks and some even escaping to secret passageways. The riot left at least 50 police officers injured and even 5 dead. 
According to The New York Times 5 people died on Wednesday. One of them was Brian Sicknick, an officer on duty trying to keep the rioters out of the Capitol. He served in the Air National Guard and had a dream of becoming an officer. In 2008 he joined the capital police force. He was overpowered and beaten by the mob of rioters. Law enforcement officers said he was struck on the head with a fire extinguisher. After the altercations at the Capitol, he returned to his station and collapsed. He was then taken to the hospital where he died the next day.
Ashli Babbitt was an Air Force veteran from Southern California. Her social media showed she was a very big Trump supporter. A video showed her with a Trump flag knotted around her neck, while other rioters hoisted her up to reach a window. She was then shot and killed by a police officer. 
Kevin Greeson was standing in a throng of fellow Trump loyalists on the west side of the Capitol when he suffered a heart attack and fell to the sidewalk. He was talking on the phone with his wife at the time. His wife said in an interview with his local news channel that Mr. Greeson had high blood pressure and she had not wanted him to travel to Washington but she said Mr. Greeson believed the election had been stolen and saw the Jan. 6 rally as "a monumental event." 
The other two people Rosanne Boyland and Benjamin Philips deaths are still unclear at this time. Benjamin is thought to have a stroke from former health problems. Police say that Rosanne collapsed but her sister who was with her said she had been in the middle of an altercation with police and rioters.