Texas Sanctuary Sees 12 Animal Deaths
Texas Freeze Causes 12 Animal Deaths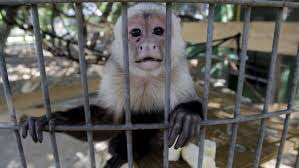 The Texas deep freeze is causing deaths among humans and animals. With temperatures as low as 5°, it has been hard for animals and humans alike to survive.
   After the numerous power outages plunged a majority of the state into darkness earlier this week, animals at the San Antonio Primarily Primates sanctuary froze to death in the winter weather. According to CNN, among the casualties were a chimpanzee, many monkeys, some lemurs, and countless birds.
   Brook Chavez, the executive director of Primary Primates, told San Antonio Express-News, "I never, ever thought my office would turn into a morgue, but it has." Chavez said she won't know how many animals have died until the blizzards calm down. Forecasts have predicted more winter weather through Friday. 
   When the power first shut off Feb 10, the staff decided to use blankets, generators, and space heaters to keep the animals warm. Unfortunately, it was too late for 12 animals. It was while mobilizing for transporting the animals to the San Antonio Zoo, that staff began to find dead animals. 
"Someone asked me how many animals have died. I don't know yet," Chavez said. "I know we lost lots of monkeys, lemurs, and tropical birds." Many of the sanctuary's residents were evacuated. 
According to Forbes, several of the group's remaining animals have been evacuated while the other animals that are still at the sanctuary are being kept warm with generators and heaters donated by the public, Chavez wrote in an update. The tragedies continue and death tolls rise as the state prepares for more extreme weather. More than 3 million Texans remain without power on Feb 17.