Burger King and International Women's Day
Burger King is Getting Backlash on Twitter Due to Their Misogynistic Comment
International Women's Day was on March 8, 2021. Many people took to Twitter to post their support for the holiday. The UK Burger King twitter, however, posted a tweet stating "[w]omen belong in the kitchen." Which caused an uproar of backlash toward the Burger King Company.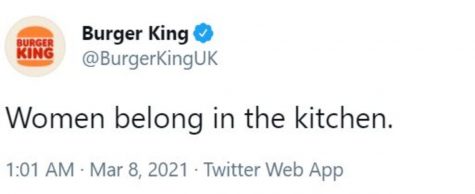 Twitter
This tweet was part of a campaign, according to The Washington Post. "The campaign included a full-page ad from the Burger King Foundation, the company's U.S.-based nonprofit arm, in the print edition of the New York Times," says The Washington Post. The front page of the ad included the phrase "Women belong in the kitchen" in a large, bolded font.
As another part of the campaign, The Washington Post states that "the Burger King Foundation's H.E.R. (Helping Equalize Restaurants) Scholarship will grant $25,000 apiece to two female employees." And although this scholarship is meant to help women in this industry, when the company was receiving backlash for their tweet and being asked to delete it, Burger King rejected this at first. In a tweet the company stated, "[w]hy would we delete a tweet that's drawing attention to a huge lack of female representation in our industry, we thought you'd be on board with this as well?" After a few hours the initial tweet was taken down and the company has apologized. "We hear you. We got our initial tweet wrong and we're sorry. Our aim was to draw attention to the fact that only 20% of professional chefs in UK kitchens are women and to help change that by awarding culinary scholarships. We will do better next time," they stated.