Myanmar's Murderous Coup
Myanmar's Military Murder Spree
Starting on February, 2nd and continuing through recent times, peaceful protesters fled to the streets of Myanmar in opposition of the new 2021, Myanmar coup d'état created and enforced by the Myanmar military. A minimum of two peaceful protesters were believed to be shot and executed by the Myanmar military and security officials on Tuesday morning, thereafter a series of peaceful protests. Since February 1, the U.N. has released a statement stating that the death toll was at 149 murders by officials during protests to bring back the country's leader, Aung San Kyi's. Most recently, the Inpededant Assistance Association for Political Prisoners released their records of killings is 183 people since the coup d'état.
The most violent reports from Tuesday, March 16, came from Yangon, Myanmar. In Yangon, it's reported that police officers fired rubber bullets in multiple neighborhoods, resulting in one man being murdered. A second killing was reported in Kawlin City in the Northwest terrain of Sagaing. Ravina Shamdsani, the Human Rights representative declared that 11 citizens were murdered on Monday, March 15. These 11 citizens added to the casualties that were reported over the weekend and were included in the official number of people murdered that is more than 235, reported from USA Today. There were numerous other reports of murders but they were incapable of verifying them all.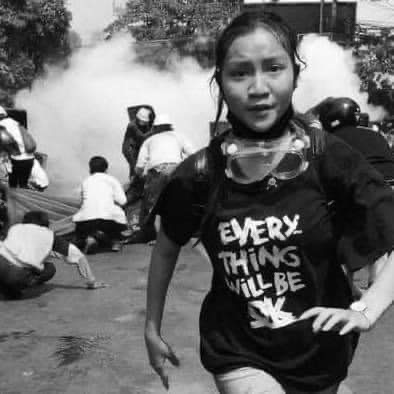 One of the most iconic protesters was 19-year-old, Kyal Sin who was famous for her uplifting slogan on her shirt that read "Everything will be okay". Kyal was one of the 38 peaceful protesters that had  been murdered by defensive Myanmar forces on March 4, 2021. Another victim of the murders was committed on the same day when Myanmar police officers shot and killed a 7-year-old girl, Khin Myo Chit, as she was in her father's arms during a home military raid, according to The Advocacy Group Assistance Association for Political Prisoners (AAPP). Both of these victims' murders are an example of the many people that are rebelling against the military coup, the protesters risk their lives and their freedom for the rights of them and their fellow citizens.
Below are a few links to guide the research into these protests.
– The Assistance Association for Political Prisoners – Statistics/numbers for the protesters.
– BBC – What is happening and why.
– Petition to honor the 2020 election results and to end the coup –Change.org
– To help save Myanmar – Change.org