Disney Water Parks Reopen
The Water Park Of Blizzard Beach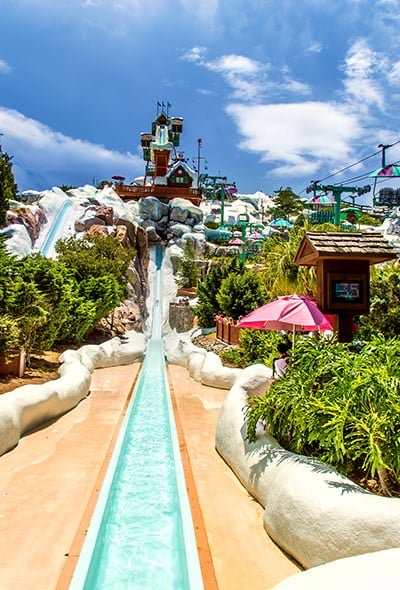 When everything was shut down due to COVID-19, so to was Blizzard Beach. But, last week the water park Blizzard Beach opened back up.
According to Disney parks blog, Blizzard Beach reopened on March 7, 2021. All of the attractions are open and working. That includes Summit Plummet, a small wave pool like at Typhoon Lagoon, and a area called Ski Patrol Training Camp. Which is supposed to be for preteens and older children. There is a small wave pool but not as strong as typhoon logon.
According toTheme park Tourist, the parks opened in March 7. Masks are needed when out of the water to get things to eat or to drink but not needed in the water. Mobile order on the my Disney app is advised at Blizzard Beach like at the parks of Magic Kingdom, Epcot, Animal Kingdom, and Hollywood Studios. The gift shops are using the whole tape program for social distancing.  Towels and cups can be bought along with their pins for collecting. All attractions have been spaced out. It is not known when the other park of Typhoon lagoon will open back up. All rides have new rules about pick-up and drop-off of floats that has now been spaced out more.   All attractions are cleaned if need be every hour like at the other parks due to Covid-19.  Blizzard Beach now  has  an open sitting of pods, of chairs spaced out to six feet for social distancing. Temperature checks will be at the entrance to the park with separation if a guests temperature is too high.
With COVID-19 new rules have been put in place to help keep it out of the parks. According to WDWinfo, the Disney World pools are busy all summer long.