Officer Shot While Trying to Catch a cow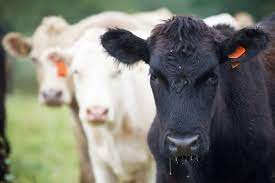 A Harrisonburg, Virginia police officer is currently recovering from a gunshot wound he got over the weekend while trying to catch a loose cow. On Saturday, March 20, the officer was helping local ranchers corral the animal after it escaped from a stockyard and began running around the city of Harrisonburg, according to police.
According to NBC News , officers intervened after ranchers were unable to capture and contain the cow. An officer was struck by a bullet in the lower body and transferred to UVA Medical Center for a non-life-threatening injury.
The cow had been running around the northern part of the city since first escaping the stockyard earlier on Saturday. The animal became injured when local ranchers tried to capture it and officers had to intervene.
When the cow was eventually spotted near a 7-Eleven that night, multiple officers tried to help catch the animal. One of them was then hit by gunfire at the scene and was taken to a hospital with a non-life-threatening wound to his lower body, said the HPD's Major Crimes Unit. The injured officer was in stable condition, alert, and "in good spirits," according to the release.
Police are now investigating if the shot came from a fellow officer or a civilian likely trying to hit the cow. The animal was also injured during the encounter and had to be euthanized, police told local news outlets.
No additional details have been released about the investigation. The Harrisonburg Police Department did not immediately return a request for more information Monday.