Trump returns with a new social media
Former President Donald Trump returns with his own social network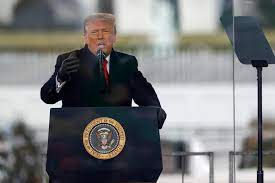 Former President Donald Trump announced that he is coming out with a new social media. A long-time adviser and spokesperson, Jason Miller, told Howard Kurtz on Fox's "MediaBuzz" that Trump is going to be "returning to social media in about two or three months." He also mentioned that Trump's return will be with "his own platform" that is going to millions of new users and "completely redefine the game." Miller announced that the former president has been approached by numerous companies and is talking with teams about this new platform.
According to CNN, "This is something that I think will be the hottest ticket in social media," Miller told Kurtz. "Everyone is waiting and watching to see what Former President Trump does, but it will be his platform." The announcement comes after Trump was permanently suspended from Twitter and other social media platforms. such as Facebook, following the incitement of the US Capitol riots on January 6– where hundreds of Trump supporters stormed the US Capitol building, leaving five people dead. 
Forbes stated that a company review board will make the decision of whether or not to make Trump's ban from Facebook and Instagram will be permanent, while YouTube has indicated that his account's suspension there could be lifted. Trump has steered away from public appearances and statements since leaving office. 
The Washington Post said, "Twitter gave him access to every reporter in the country and the ability to troll the libs and get on cable news within minutes," said Nu Wexler, a communications consultant who previously worked at Facebook, Twitter, and Google. "I don't think he would get that on his own social network. It would be an echo chamber of just his supporters."