"Life-Threatening" Australian Floods
Massive Amounts of Water Floods Australia
As a country that has already suffered through the worst fires in record history in the past year, Australia has been through many heartbreaking and stressful times. On Monday, March 22, 2021, a record-breaking flood drowned the town of Windsor, Australia. Two massive storms converged over eastern Australia, according to the New York Times, and poured down over three feet of rain in five days. As of March 22, about 20,000 Australians have been forced to evacuate, and more than 150 schools have been closed.
According to the New York Times, at least 500 rescues have been performed due to the flood, and roads from Sydney to Queensland — about 2,000 kilometers (over 1,000 miles) — are underwater.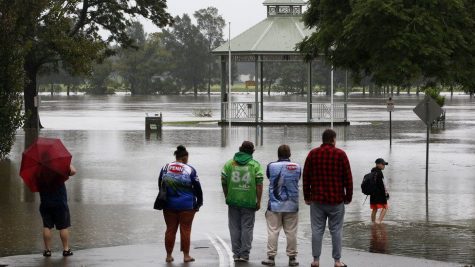 Seven emergency shelters opened across the state as Premier Gladys Berejiklian said parts of the Mid-North Coast were experiencing a "one in 100-year event", according to the BBC. Warragamba Dam, Sydney's main water source, has been overflowing for the first time in years.
The New York Times states that the natural disasters and abnormalities occurring in Australia are all related to a warming earth, caused by greenhouse gases. "Because global temperatures have risen 1.1 degrees Celsius, or about 2 degrees Fahrenheit, over preindustrial levels, landscapes dry out more quickly, producing severe droughts, even as more water vapor rises into the atmosphere, increasing the likelihood of extreme downpours." (NYT). According to Andy Pitman, director of the ARC Center of Excellence for Climate Extremes at the University of New South Wales, "There is a very strong link between global warming and that intensification in rainfall. There's good scientific evidence to say extreme rain is becoming more extreme due to global warming."
Prime Minister Scott Morrison has offered funds for those forced to flee, and several dozen areas have already been declared disaster zones.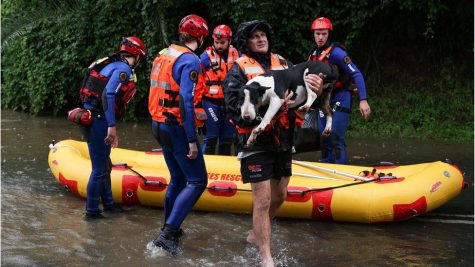 A young couple in Australia's New South Wales state has seen their house swept away by flash floods on what should have been their wedding day. Sarah Soars and Joshua Edge had been renting a three-bedroom cottage at Mondrook, 325km (205 miles) north of Sydney, and had been due to get married on Saturday on the river banks in front of the property, according to the BBC. "It literally floated like a houseboat, the whole house, fully intact," the co-owner of the property Peter Bowie told Australian broadcaster ABC. "It went so fast," he added. "It went nearly a kilometre all intact, 100%. This house just lifted up and floated down the river."
They lost everything they owned, including pets, as floodwaters powered through Mondrook, an area near the town of Taree in NSW, Edge's brother Lyle wrote on a GoFundMe page set up to help the couple. The page has raised nearly $100,000 AUD (roughly $77,000 USD) from 1,779 people in one day. "We have just been blown away with people's generosity," said Lyle Edge in a Facebook post according to CNN. "We are all so grateful and can not [sic] thank everyone enough."
Since March 18, the State Emergency Service (SES) has responded to 7,000 calls for assistance and conducted more than 750 flood rescues. Thousands of emergency workers and volunteers are still on the ground, helping trapped residents, according to CNN.
Australia's federal government activated disaster relief for flood-affected NSW residents, Prime Minister Morrison announced in a Facebook post on Sunday, March 21. Those who are significantly injured lost homes or had their homes damaged will be entitled to $1,000 AUD (roughly $770 USD) for adults or $400 AUD (roughly $310 USD) for children. "The terrible storms and floods that have been ravaging NSW for the past few days are taking a heavy toll," Morrison said in a video address accompanying the post, mentioning that he has been in regular contact with Berejiklian.