Va. Officer Fired Pepper-Spraying a Black Army Medic
A Virginia Officer has been Fired After He Sprayed An Active Army Medic at a Traffic Stop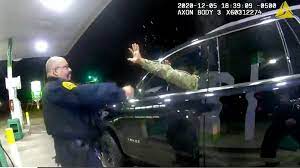 A Windsor, Virginia officer, Joe Gutierrez, has been fired after he pepper-sprayed a black army medic in the face. He was accused of using excessive force in a traffic stop, Mayor Glyn T. Willis, said April, 11. The officers pointed guns at, pepper-sprayed, and pushed a black US Army officer to the ground during a traffic stop on December 5, 2020. Second Lt. Caron Nazario, who is Black and Latino, is planning on suing over the incident, claiming that the officers violated his right guaranteed under the First and Fourth Amendments. Officer Gutierrez has been fired, Town Manager William Saunders told CNN. The other officer, Daniel Crocker, is still employed by the police department.
The statement didn't give the date of Gutierrez's firing. Sergeant Major of the Army, Micheal Griton, tweeted he was concerned by the video and that Nazario "represented himself and our Army well through his calm, professional response to the situation. I'm very proud of him."
CBS News said that in both body camera and cell phone video, Nazario, in his Army uniform, is seen with his hands out the window of his car.
"I've not committed any crime," Nazario said. Then, the officers order him to get out of the car, drawing their guns.
Griton also said that situations like this are "what I want soldiers to discuss. The reality that some of our soldiers still face."
The Windsor officers, Joe Gutierrez and Daniel Crocker, could not be reached for comment. It's unclear whether they have legal representation that would comment. Officials said an internal investigation had determined that Mr. Gutierrez's actions were not consistent with the department's policies. They did not provide further details on when Gutierrez had been fired. (New York Times)
New York Times reported that bodycam footage of the incident has drawn widespread condemnation, including from Gov. Ralph Northam, who called it "disturbing." He said he was "directing the Virginia State Police to conduct an independent investigation.
A 2019 study by Esposito, Lee, and Edwards states that police killings are a leading cause of death for men aged 25-29 at 1.8 per 100000, trailing causes such as accidental death (76.6 per 100000), suicide (26.7 per 100000), and other homicides (22.0 per 100000).