Aprils Pink Moon
On April 26th, 2021 The Pink Moon Covered the Night Sky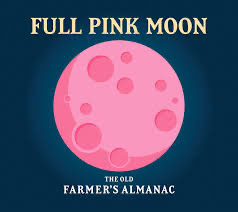 On the night of April 26, 2021, there was  April's Pink moon. This full Moon—which is the first of two super-moons this year— was visible after sunset and reaches peak illumination at 11:33 P.M. EDT.
This year, we'll be treated to two super-moons, with the first occurring on April 26 and the second on May 26. Super-moons are said to be bigger and brighter than your average full moon, according to the farmers' almanac.
Just how big and how bright, exactly? Well according to the farmer's almanac,  super-moons are about 7% bigger and about 15% brighter than a typical full moon. However, unless you were to see a regular full moon and a super-moon side by side in the sky, the difference is very difficult to notice!
Why is it called the Pink Moon? The full moon names used by The Old Farmer's Almanac come from several places, including Native American, Colonial American, and European sources. Traditionally, each full moon name was applied to the entire lunar month in which it occurred, not only to the full moon.
Although we wish this name had to do with the color of the moon, the reality is not quite as mystical or awe-inspiring. In truth, April's full moon often corresponded with the early springtime blooms of a certain wildflower native to eastern North America: Phlox subulata—commonly called creeping phlox or moss phlox—which also went by the name "moss pink."
There is a big astrological meaning behind the Pink Moon this April. This means when the Taurus sun and Scorpio moon oppose each other in the sky, lighting up Earth's atmosphere throughout the night. A great way to celebrate this occasion is to honor the moon. A bath with healing crystals such as carnelian, clear quartz, and flower jasper along with Epsom salts will rejuvenate your body, mind, and spirit. It will also help cleanse your aura, raise your energetic vibration and recharge your life force. Throughout the rest of 2021, Supermoons will be happening at the end of each month.