Mask Mandate Lifted
The CDC has Lifted Some Mask Guidelines
On Thursday, May 13, 2021, the Centers for Disease Control and Prevention (CDC) eased mask-wearing guidance for fully vaccinated individuals. These new guidelines allow fully vaccinated Americans to stop wearing masks outdoors in crowds and in most indoor settings.
"If you are fully vaccinated, you can start doing the things that you had stopped doing because of the pandemic," said Dr. Rochelle Walensky, the director of the CDC, adding: "We have all longed for this moment when we can get back to some sense of normalcy." U.S. President Joe Biden praised the CDC's announcement, calling it "a great milestone, a great day," during a Rose Garden address heralding the new guidance, an event where he and his staff went without masks (Associated Press).
"If you are fully vaccinated, you no longer need to wear a mask," Mr. Biden said. "Get vaccinated — or wear a mask until you do."
Recently, U.S. virus cases have been at their lowest rate since September, deaths are at their lowest point since last April and the test positivity rate is at the lowest point since the pandemic began. According to the AP, Walensky said the long-awaited change is thanks to the millions of people who have gotten vaccinated and is based on the latest science about how well those shots are working. "Anyone who is fully vaccinated can participate in indoor and outdoor activities — large or small — without wearing a mask or physically distancing," Walensky said. "If you are fully vaccinated, you can start doing the things that you had stopped doing because of the pandemic."
Because of these new guidelines, a growing number of major retailers are lifting mask requirements. For example, with a new section of their website, Walmart announced on Friday, May 14, that fully vaccinated customers would no longer need to wear masks, and that fully vaccinated employees would no longer need to as of Tuesday, May 18.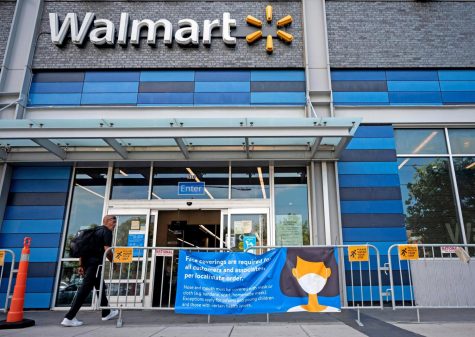 Costco also made a post stating that "In Costco locations where the state or local jurisdiction does not have a mask mandate, we will allow members and guests who are fully vaccinated to enter Costco without a face mask or face shield. We will not require proof of vaccination, except where required by law, but we ask for members' responsible and respectful cooperation with this revised policy."
As of Monday, May 17, Starbucks also will not require face masks for fully vaccinated customers (Starbucks). According to the New York Times, Kenya Friend-Daniel, a spokesperson, announced that Trader Joe's will no longer make vaccinated customers wear masks.
Along with grocery stores and coffee shops, parks have been affected by these new mandates. The national parks are preparing for a busy summer season and have urged unvaccinated people to continue wearing masks even when outdoors. "Consistent with CDC recommendations, people who are not fully vaccinated must continue to wear masks indoors and in crowded outdoor spaces," the National Park Service says on its website.
All visitors, regardless of vaccination status, are required to wear masks on public transportation within parks.
Some public health experts expressed concerns that unvaccinated people may also choose to not wear masks; "CDC is betting that by giving wide freedom to vaccinated people it'll encourage the hesitant," Lawrence Gostin, director of Georgetown University's O'Neill Institute for National and Global Health Law, wrote on Twitter on Thursday. "But there's no behavioral evidence for that. What's more likely to happen is that both vaccinated AND unvaccinated people will take off their masks."
Union leaders have also pointed to the health risks that workers could face.
"Today's C.D.C. guidance is confusing and fails to consider how it will impact essential workers who face frequent exposure to individuals who are not vaccinated and refuse to wear masks," Marc Perrone, president of the United Food and Commercial Workers International Union, said in a statement on Thursday, May 13.
"Essential workers are still forced to play mask police for shoppers who are unvaccinated and refuse to follow local Covid safety measures," he added.
The nation's largest union of registered nurses, National Nurses United, have also been expressing concern for these new CDC guidelines. Bonnie Castillo, a registered nurse and executive director of the union, said these guidelines, "[are] not based on science." Ms. Castillo said the new guidance would jeopardize the health of frontline workers and the general public and would disproportionately harm people of color (New York Times).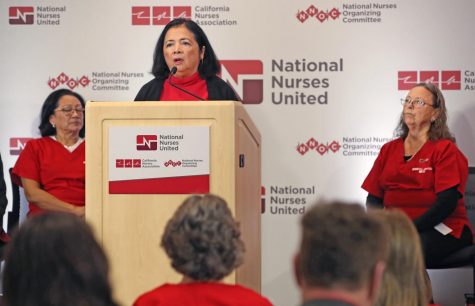 "This is a huge blow to our efforts at confronting this virus and the pandemic," said Ms. Castillo, whose union represents 170,000 nurses nationwide. "The mask is another lifesaving layer of protection for workers," she said.
The union noted that more than 35,000 new cases of COVID-19 were being reported each day and that more than 600 people were dying each day. "Now is not the time to relax protective measures, and we are outraged that the C.D.C. has done just that while we are still in the midst of the deadliest pandemic in a century," Ms. Castillo said.
The CDC's decision has come as a surprise to many as there is no system to distinguish between those who are vaccinated and those who aren't — and fewer than half of adults in the US (46%) are fully vaccinated, according to CDC data.
As of May 23, in the United States, there have been 14,144 new COVID-19 cases and a 7-day average of 25,318 cases. On this date, there were 28,993 hospitalizations and 567 deaths (New York Times).