Jake Paul vs Tyron Woodley
Jake Paul steps in the Boxing Arena again in a PPV fight.
On Sunday August 29th, 2021 former welterweight champion Tyron Woodley stepped in the ring against the internet star Jake Paul. The match went down in the Rocket Mortgage Fieldhouse in Cleveland, Ohio. Paul was the underdog going into the fight, as -190 favorite, while Woodley was +170. Of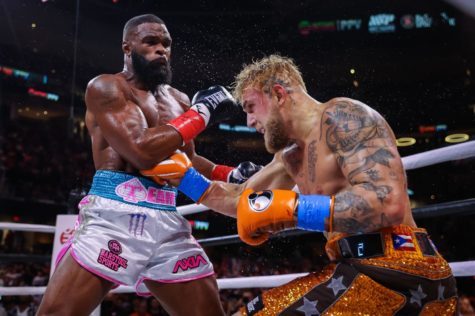 For those of you who don't know how odds work, Paul being a -190 favorite means you'd risk $190 to win $100 but for Woodley, you'd risk only $100 to win $170 since his odds were +170. But with the odds stacked against Paul, he won the fight via spilt decision. There were no knockouts, meaning Paul simply outlasted Woodley. The fight went to 8 rounds, with Paul winning by a margin of 71-52.
But before the match, the two had made a bet. Initially they made a winner-take-all bet, of course with millions of dollars on the line. But in July, they had agreed on a new bet. During their pre-fight press conference Paul offered a new deal, one that wouldn't hurt no ones money after the fight."So how about this, let's make a new bet right now," said Paul to Woodley according to this MMA article source. "Let's make a new bet — if I beat you, you have to get 'I love Jake Paul' tattooed on you. But if you beat me, I have to get 'I love Tyron Woodley' tattooed on me and you have to post it on your Instagram feed. Deal or no deal? Are you confident or not? This guy had no f****** confidence."
When Paul offered the bet, Woodley turned to the media there in attendance for their advice on what he had just got offered. "Y'all think I should do it? Bet. Deal." Woodley then finished the conversation by saying, "I bet I'm going to beat your a**," via MMAfighting.com.
After the match, when they were in the ring, you could tell Woodley wasn't happy with his performance. Woodley took the microphone from the announcer and told Paul he wants a rematch. Jake agreed to a rematch if Woodley executes the bet and gets the tattoo.
Right now, Woodley ha not yet gotten the tattoo and him and Paul are planning a rematch.