BREAKING NEWS: Kyrie Irving Out for the Season?!
Kyrie Irving Might miss Half the Season due to NYC Vaccine Mandate
Brooklyn Nets superstar Kyrie Irving doesn't want to get the COVID-19 vaccine. However, New York City requires that all professional athletes must be vaccinated to play in the area. If Irving refused to get vaccinated before the season starts, he'll most likely miss all home games this season (which is about half of the 82 game regular season).This includes the playoffs if the Nets make it.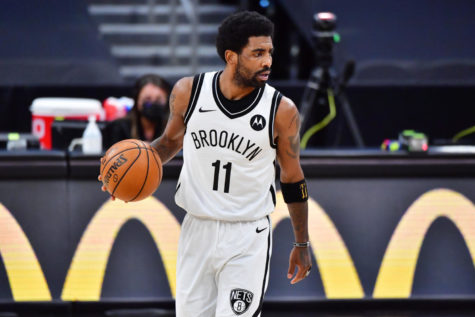 Sean Marks said in an interview with ESPN, "He has a choice to make, and he made his choice. Again, my job here is to make what we deem as the best decision and best choices for the organization moving ahead as a whole. They're not always ones that are going to be met with open arms and a thumbs-up. These are hard decisions. Just like I'm sure it wasn't easy for Kyrie either to have to make that decision to not be around his teammates."
With Irving potentially missing all the games this season, it will make it harder for the Nets to win games without one of their superstars. With Irving being gone for the season, the Nets are still in good hands with two more superstars in- Kevin Durant who most would say is the best player in the league right now (26.9 ppg and 5.6 apg last season), and James Harden who is one of best scorers in the league (24.6 ppg, 8.5 rpg, 10.9 apg last season). It'll be harder for them, but they're more than capable of winning games with or without Irving. It'll become more difficult for them if Irving isn't vaccinated by April of 2022, which is the start of the NBA playoffs. Irving is key factor for them winning the NBA championship that majority of people think they will win when their at their full potential.