Argyle and Archer's Haphazard Advice
Excellent Gift Ideas for all Occasions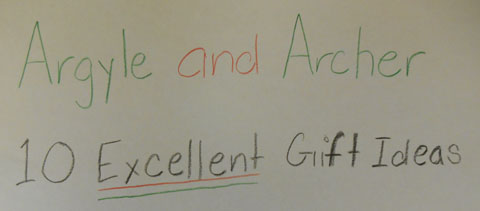 It's that time of the year again. Families and couples alike are out buying holiday (or possibly birthday) presents for other family members or significant others. Stores are crowded with all those last minute, sock-buying procrastinators who wait until the night before to buy the presents they need by the morning. Maybe you're even out buying them that prank gift for the perfect white elephant surprise. Regardless of whether or not you're the guy who buys the socks for everyone or you're the cool cousin who gets everyone what they want, this edition of Argyle and Archer strives to help you get your holiday shopping done early this year and give you time to relax over holiday break.
1. Ugly sweaters
Who doesn't love the traditional ugly sweater? Everyone wears them at least once a year, why not get that special someone or your father their ugly sweater for next year? Even if you didn't intend for the sweater to be ugly, if the person you got it for thinks it's ugly, you can just as easily play it off and tell them it's an ugly sweater. It's the perfect gift for anyone.
2. Getting the same gift from previous years
Why spend money this year when you can reuse your least favorite presents from last year? Admit it, you didn't like those socks that granny knitted you, you just had to pretend to like them to make granny feel better. Stop pretending to like those socks and give them to your father. After all, he can wear those knitted socks with his ugly sweater, it's the perfect outfit.
3. Chapstick
What better way to tell someone that they have chapped lips than getting them a 12-pack of assorted flavored ChapStick? Not only will this gift heal their lips, but if that special someone is the one receiving the ChapStick, you'll get a tasty kiss when they receive their favorite gift this year!
4. School supplies
Sure, it's holiday break, but who couldn't use some more school supplies? It's almost halfway through the school year, certainly your high school gift receiver is just about out of mechanical pencils and notebooks. Go to Wal-Mart, pick up that 24-pack of mechanical pencils and that 94-cent notebook, and you're set for this holiday season.
5. Ornaments
Everyone loves getting ornaments. I mean after all, who wouldn't want a gift that they can only use once a year? Sounds like the perfect gift to us. If you ask us, ornaments are a hot present for anyone despite their age.
6. Goldfish
What better way to show your least favorite cousin you temporarily love them enough to get them a present than by getting them a goldfish? Goldfish only last about a week anyway. After that week, they'll most likely forget who gave them goldfish anyway and you aren't going to be blamed for getting a cheap present.
7. Socks
If you want to be THAT guy at your family gathering, then the perfect way to be that guy is by buying the most bland socks you can. The socks I mean are the white, Hanes brand tube socks. Not only is this a great way to save money, but no one will be excited about getting it that they won't feel obligated to come up and talk to you after unwrapping those beauties!
8. Board games and playing cards
There's no better way to tell someone that you're boring and unoriginal than by getting that someone special their least favorite board game or a deck of playing cards. We're sure this person will give you that forced, painful looking "Oh… thank you so much" face, but hey, if that's what you're about, then by all means get them a board game.
9. A homemade Christmas Album
There's absolutely no better way to show off your shower singing abilities than by recording your very own album. The songs you sing don't even need to be Christmas songs, they can be any song. It's your album, so you choose what song goes in it. For this gift, you may want to bring gift cards or something as a back up, just in case things don't work out.
10. Nothing
One of the many ways you can leave a very memorable impression on someone is by getting them nothing this holiday season. Keep in mind though, thinking about getting them a gift is easily ninety percent of the gift. If you show up empty handed, you're technically showing up with ninety percent of a gift assuming you didn't completely forget to get them a gift, you were just too lazy to finish the last ten percent of it.
This holiday season, don't be just another guy. If you get someone any of the presents on this list, we assure you that you'll be THAT guy, not just another guy. Happy holidays to everyone!