UD Student Dead After Astroworld Concert
Franco Patino, a UD Student Dies After Astro World Injuries
On November 5, Travis Scott held a concert, which led to ten deaths. Among the dead is Franco Patino, a collage student from the University of Dayton . 
According to WDTN, Franco Patino was from Naperville, Illinois and going to UD for  mechanical engineering technology, with a minor in human movement biomechanics. Patino was a member Alpha Psi Lambda, a Hispanic interest fraternity. He started a co-op in Mason, Ohio before his death. According to  Newsbreak, Patino was killed when the crowd started  to compress towards the stage, causing panic.
According to Newsbreak, The victims' ages ranged from 14 to 27 years old. In total, According to NBC,  27 people where hospitalized  13 people stayed in the hospital due to their injuries, 11 of the 13 were suffering from cardiac arrest.
According to The Washington Post, the newest death that occurred from the concert was nine-year-old year, Ezra Blount. Blount was trampled over and eventually succumbed to his injuries on November 14, 2021.  AP news elaborated on what lead to Blount's hospitalization, "The child incurred severe damage to his brain, kidney, and liver after being "kicked, stepped on, and trampled, and nearly crushed to death".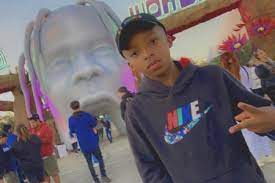 This was a tragedy of many deaths, two of which included a fellow Student of Dayton, and a young nine-year-old boy, who is the newest casualties of the aftermath of Travis Scotts' concert. 13 people were hospitalized due to the crowd surge. Although it is still unknown what caused the surge in the crowd,  as news comes forward, we will have the chance to fully understand what led to the injuries and deaths of theses concert goers. Hopefully, family and friends will be given solace for their loss. It's sad to see so many people lose their lives over a concert.