Bengals are Playoff Contenders
Bengals Make Playoffs for First Time Since 2015
The Cincinnati Bengals are back to being a decent team, with lots of potential to be one of the best. The Bengals haven't made the post-season in 6 years, with the last time they made the playoffs in 2015. They made the Wild Card game but lost to the Pittsburg Steelers 18-16.
The Bengals have blown out teams like the Steelers twice, the Ravens, and the Raiders. They also lost by 3 points in overtime to the Green Bay Packers, who some may say are Super Bowl favorites.
After drafting former college teammates Joe Burrow and Ja'Marr Chase, along with Tyler Boyd, Tee Higgins, and Joe Mixon. Their offense has been nothing but impressive and paired with their underrated defense and they're sitting at 7-4 on the season. The Bengals are now 2nd in their division behind the Baltimore Ravens and are 5th in their conference behind the Kansas City Chiefs, Tennessee Titans, New England Patriots, and the Baltimore Ravens.
Rookie receiver Ja'Marr Chase has been outstanding. When the Bengals first drafted them, everyone questioned why they passed up on offensive tackle Penei Sewell. Then during their preseason games, Ja'Marr was dropping a lot of open passes. But it turns out that he was just shaking off the dust from not playing in an actual game in over a year, since winning the 2019 National Championship with the LSU Tigers then deciding to leave the team the following year to train for the NFL draft. Via ESPN, Chase has 50 catches, 906 yards (6th in the league), 8 touchdowns (tied 4th in the league), and an average of 18 yards every reception (3rd in the league).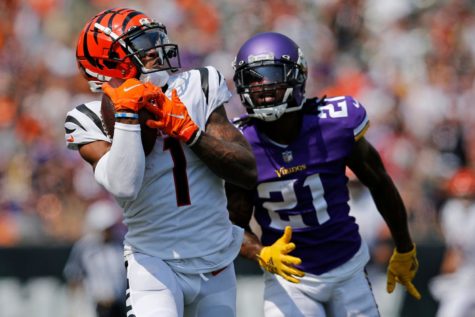 In their last game against the Pittsburg Steelers, they blew out 41-10. The remainder of their schedule isn't easy, they play some really good teams down the stretch of the regular season. But if they keep up the consistency, they should do just fine. You can expect to see them again to make a statement for the 2022 post-season.