Audrey Osudoh Dreams Big
Northmont Sophomore Invited to Disney Dreamers Academy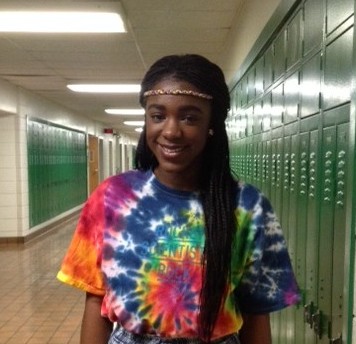 In 2008, Steve Harvey and ESSENCE magazine joined Disney World to create Disney Dreamers Academy, a program in which 100 high school students, aged 13-19, are selected to go on a four-day trip to Disney World each year. The students are chosen based on essays they submit. Sophomore Audrey Osudoh was one of the students selected as a "Dreamer" in the program's Class of 2015.
"The competition was, basically, an opportunity to win not just a trip to Disney World, but while we're there we'll be seeing an inspirational speaker, conferences, and you get to learn about a specific major that you want to do in your life, so it will teach you the steps you need to do to achieve your dreams," said Osudoh.
Applicants filled out an application online or on paper, and answered three essay questions, such as describing an experience in their lives that had a big impact on them.
"One (question) was 'If Steve Harvey asked you to tell him about your life, what would you say?'" said Osudoh. "The second one was, 'What do you want to do in the future, like business or any goals you have, anything you want to do in the future, what you want to major in, and then explain how you're going to get there.'"
Applicants sent the application to the academy, where their essays were reviewed and the academy chose this year's "Dreamers".
"They read applications after November 21. They reviewed them, and then they said they would do the judging panel thing, and said that 250 were chosen out of 5,000+ applications sent in," said Osudoh. "Then they would judge it some more, and then they would pick the top 100 and judge them on 40% character of the person, 10% this, 10% that, just judge you based on what we're writing."
The top 100 essays were selected as the "Dreamers" of 2015.
"That wins you just the trip to four days, three nights to DisneyWorld plus the conferences and all expenses paid," said Osudoh. "They're giving you a t-shirt, because they ask for your T-shirt size, shoes because they ask for your shoe size, and a ring because they ask for your ring size on the application packet that came in the mail after you won."
The Dreamers leave for Disney World in March and can bring one guardian with all expenses paid.
"We'll actually be leaving March fifth through eighth. I think that fifth is a Thursday, so  should be leaving that Thursday and coming back on Sunday," said Osudoh. "I'm bringing my mom."
Out of the 100 "Dreamers," Osudoh is one of two people from Ohio to be selected, and the only one from the Clayton area.