Pennsylvania Bridge Collapses
Bridge in Pennsylvania Collapses Hours Before Biden's Infrastructure Visit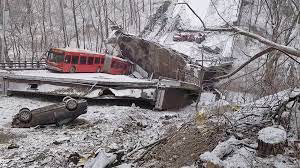 In Pittsburg, Pennsylvania, the Forbes Avenue bridge collapsed, leaving 10 people injured. Four of these injuries required hospital attention, but no one was killed and the injuries sustained from the collapse were life-threatening, according to the New York Times. The collapse happened around 6:30-6:45 am and it was fortunate that the collapse happened around this time. Schools in the area were delayed two hours due to snow. If the delay hadn't taken place, the casualties would be astronomically high. 
Pittsburg fire chief Darryl Jones said that only four cars and a bus were on it. The bus was only carrying a driver and two other passengers. He described the rescue as challenging, being that the bridge sat right above a snowy hollow. Emergency workers traveled down into the hollow and set up, "a daisy chain with hands just grabbing people and pulling them up.", as reported by the Washington Post. The collapse also managed to rupture a gas line, which was quickly shut off and it cause no further problems other than leaving a pungent odor. 
The suspected cause of the collapse isn't yet known, although engineers and officials are blaming this on years of deferred maintenance. The bridge has been around for 50 years and it's crowded with traffic from citizens who travel the road every day. This also happened to fall on President Biden's visit to Pennsylvania to address issues with infrastructure in the state. Biden later stated that the bridge collapse was a clear reason as to why his administration needed the $1 trillion plan to be put into action.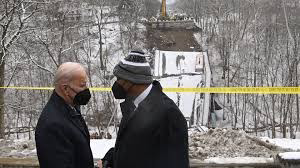 A September 2019 inspection of the bridge found that it was in poor condition overall and the "deterioration of primary structural elements has advanced.", reported ABC. There are still investigations into the cause of the collapse, and more information will come in the following days.