Biden Announced Russia's Invasion of Ukraine
Russia has Begun to Invade Ukraine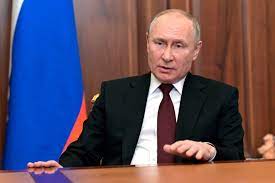 On Tuesday, February 22, 2022, Biden told the press, "This is the beginning of a Russian invasion of Ukraine … so I'm going to begin to impose sanctions in response". Biden, in response to Putin's decision to send "peacekeeping" forces into Ukraine's eastern breakaway region hours after he formally recognized Luhansk and Donetsk as independent from Ukraine on Monday.   According to CBSNews, "Additionally, the U.S. is moving its forces already deployed in Europe to NATO countries bordering Russia on the west, Estonia, Latvia and Lithuania, in response to Putin's refusal to withdraw troops from Belarus. The move is intended to reassure those countries that they will be protected if Russia attacks."  The president is trying to keep clarity, unity, and conviction.  The president has made it clear that he has no intention of fighting Russia.
On Wednesday February 23,  2022, President of Russia, Vladimir Putin, declare the start of a "special military operation" to "demilitarize" Ukraine but not occupy the country. Explosions thundered in Ukrainian cities shortly after. According to New York Times, "Ukrainians had hoped for months that the forecasts of an invasion from Russia, a nation with which they share much history and culture, could not be true. But on Thursday (The next morning) they awoke to its dire reality."  More than 40 Ukrainian soldiers have been killed,  the Ukrainian seem to be putting down their fire-arms trying to keep peace.
"Unfortunately, while we've been meeting in the Security Council tonight, it appears that President Putin has ordered that last step," said the U.S. ambassador, Linda Thomas-Greenfield. "This is a grave emergency."  Ukraine's ambassador, Sergiy Kyslytsya, called on his Russian counterpart to phone Mr. Putin and ask him to stop the war. "There is no purgatory for war criminals," Mr. Kyslytsya said. "They go straight to hell, ambassador.  The Russian ambassador responded to this by saying that his country was not attacking the Ukrainian people but rather "the junta  in power in Kyiv."  (Junta: a military or political group that rules a country after taking power by force.)
If NATO gets caught up into the battle, there is a chance for a world war lll.  The U.S. Senators have said, they are not willing to be in the war, or fight for them, but instead they are giving them the supplies to fight.