Blind Man Falls Into Hole at Construction Site
Frederick Allen Accidentally Falls Into a Hole Left after Sidewalk Construction in Gretna, Louisiana
On April 2, 2022, a blind man named Frederick Allen was walking on his usual route around the neighborhood until he fell into a 5 foot deep hole left after Atmos Energy's construction work. A man named Joseph Lalley lives right by the hole. "Lalley witnessed the incident and told WDSU that it happened on Madison Street, in the afternoon. 'It just happened that quick,' Lalley said. 'My wife and I both watched him walk straight into the hole. Non Stop. No warning.' After Lalley reached out to Atmos Energy, the company overseeing the work, an employee came out and put up more mesh and stakes to block off the hole in the sidewalk." explains International News. Thankfully, Frederick Allen says he is only sore, not injured. 
"My worst fear was that nobody would see me, but I'm thankful that my neighbors down there, they saw me." says Allen after the fall. "Thank goodness they didn't have a steel beam or anything down there."  
"Not pointing fingers, Lalley just wants his street to be safe for everyone." Says a news reporter in the video interview.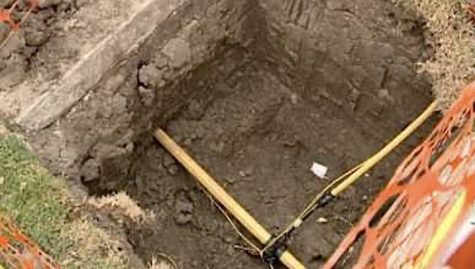 The construction company, Atmos Energy, is "the largest natural gas-only distributor in the U.S., according to the company, which has its headquarters in Dallas. Atmos Energy serves more than 3 million customers in 14,000 communities in Colorado, Kansas, Kentucky, Louisiana, Mississippi, Tennessee, Texas and Virginia." According to Newsweek.
"If you know you have four holes down here, block the sidewalk off," said Lalley to WDSU. In 2018, a 12 year old named "Linda 'Michelita' Rogers died in Dallas after an explosion in her family home caused by a natural gas leak. The incident was later found to have been preventable by inspectors and Atmos Energy was penalized $1.6 million for failing to detect and act on the leak." explains Newseek. The Allen incident definitely wasn't the first mistake this company made.