Taco Bell Mexican Pizza Comes Back This May
Taco Bell Officially Announced Return of Mexican Pizza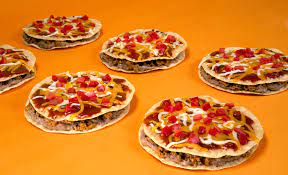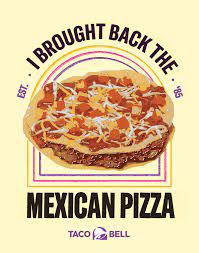 While originally being released in 1985 known as the "Pizzazz Pizza", Taco Bell's famous Mexican Pizza will be seen making its return on May 19, 2022. With loyalty members being able to purchase one as early as May 17. Although the Mexican Pizza was dropped from the menus in 2020, American pop star Doja Cat, and petitions have triggered the return of the Mexican Pizza. 200k+ signers on Change signed the petition. Taco Bell gave credit to a super fan, Kris Jagirdar, for leading the "Save the Mexican Pizza" petition. Weeks before the withdrawal of the Mexican Pizza, the petition had 125,000 signatures, now the petition succeeded with 171,731 votes. The people weren't the only reason the pizza was brought back, many people of Taco Bell's test kitchen took time to source ingredients and streamline operations, so that we can all get the Mexican Pizza we know and love.
Taco Bell has prioritized sustainability practices, such as their sauce packet recycling program with Terracycle. The people of Taco Bell also said that "they've streamlined operations to keep kitchens moving quickly, altered their ingredient sourcing, and tweaked the packaging to leave a lighter footprint." They will fully commit to all recyclable packaging in 2025.
The Mexican Pizza is made up of two crispy flour tortillas, layered with beans, pizza sauce, tomatoes, seasoned beef, and a melted three-cheese blend. All for the price of $4.49, but you can make it a combo with a Mexican Pizza, 2 crunchy tacos, and a large fountain drink. On Doordash.com use promo code MEXPIZZA at checkout to get $2 off of a Mexican Pizza.