Peaceful Protesters Protesting Outside of Supreme Court Justices Houses
The Supreme Court's Decision has People Everywhere Ready to Fight Back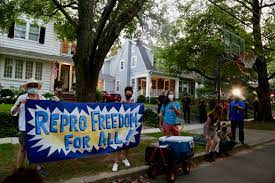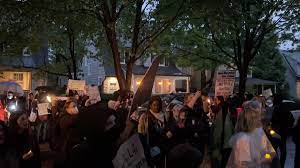 After the recent leak of the Supreme Court's draft decision, peaceful protests have been occurring outside the houses of supreme court justices. Justices such as Brett Kavanaugh, John Roberts, and Samuel Alito have seen protesters within the past few days. Protesters yelled things such as "the world is watching," and "abort the court."
Tension over the rights of abortion continue to simmer as the leaked Supreme Court draft opinion got leaked in the first week of May. The protests started to occur the week after at the houses of Justices, Kavanaugh and Roberts, after they argued that the abortion-rights movement groups had crossed a line by going to their private residencies. Though not too long after the protesters were greeted by the police, and organizers asked the crowd to keep moving to avoid having any arrests and keep the residential flow of traffic moving.
The protests have gotten some support from neighbors and drivers, but other neighbors called the event disruptive and disrespectful. The protest have even gotten attention of Secretary Jen Psaki who recently tweeted "@POTUS strongly believes in the Constitutional right to protest. But that should never include violence, threats, or vandalism. Judges perform an incredibly important function in our society, and they must be able to do their jobs without concern for their personal safety."
Protests are expected to proceed through the week in front of the Supreme court, and continue in front of the judges houses as well.