Biden Announced Student Loan Forgiveness
President Biden Announced the Launch of Student Loan Forgiveness
The Education Department and President Joe Biden have announced the official launch of the Federal Student Loan Forgiveness application. The application is geared toward college students who are trying to get forgiveness for their student loans. People who are applying for student debt relief can fill out the application at the official FAFSA website. The form includes more information about debt relief, who qualifies for it, and how it works. Borrowers have until December 31, 2023, to fill out the application.
The Biden administration has said that applicants who are 'more likely to exceed the income cutoff' will have to submit additional information, such as a tax transcript. And while borrowers won't have to pay federal income taxes on debt forgiveness, it's possible that some people might have to pay state income tax on the amount of debt forgiven, according to CNN.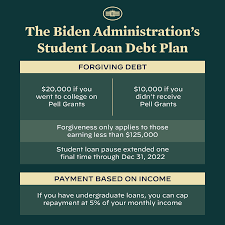 The Education Department's outreach to borrowers eligible for automatic relief comes a day after Biden launched the application. The department opened the form on October 15 as part of a test, with hopes of finding and fixing any glitches on the website. Borrowers have so far been praising the simplicity and ease of the application process, but some people overseas have reported some trouble accessing the website. The Biden administration has said that they were aware of the problems and are actively working on a solution. The Education Department said that these loans would be eligible for the one-time forgiveness action. 
Education Secretary Miguel Cardona said that the administration is, "moving as quickly as possible to provide relief to as many people as possible."