Northmont Students Paint a Mural at Meadowbrook at Clayton.
A Group of Students Were Selected to Paint a Mural at Meadowbrook at Clayton.
Meadowbrook at Clayton had asked students to create a design for a mural. The school then asked for design submissions. Bethany Allen said, "40 students submitted drawings. Out of the 40 student submissions Javien Brownlee's design got picked" (October 26). The people in charge at Meadowbrook at Clayton selected a design out of the 40 submissions then it was time to paint it.
 Northmont now needed students and staff to paint the mural at Meadowbrook at Clayton. Bethany Allen states, "We had students apply to come, then we chose the seven we felt were most artistically advanced" (October 26). The students they chose are Javien Brownlee, Joelis Velez Burgos, Solo Stamper, Brenna Smart, Carly McNeil, Hannah Fea, Larry … They also had some of the art teachers Chrissy Hall, Abby Daniels, Bethany Allen, Sarah McGonigle. Chrissy Hall was the main teacher in charge of most of this project.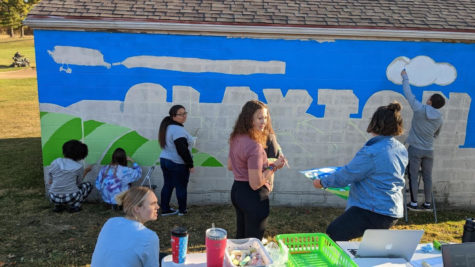 One of the requirements for the mural was to have "Meadowbrook at Clayton" written somewhere on the mural. There also had to be the Clayton sun logo incorporated into the mural somehow. All that was left was to paint the mural. On October 24, 2022, all the students were selected and the teachers in charge of the mural went to Meadowbrook at Clayton. They painted from eight in the morning to three in the afternoon. Most of the work was done by the time the students left, but some of the students and teachers return next to add all the finishing touches.