Hurricane Roslyn's Impact
Hurricane Roslyn's effect on Mexico's society
Hurricane Roslyn devastated Mexico's west coast early Sunday morning, with winds reporting up to 120 miles per hour. The storm did not last very long on land, as it was downgraded to a tropical storm shortly after moving through. However, Accu Weather reports that at least 3 people have lost their lives. 
The storm also brought along heavy wind and rain to the state of Texas,  Fox 4 News reports, as well as winds being up to 60 mph in the south central states.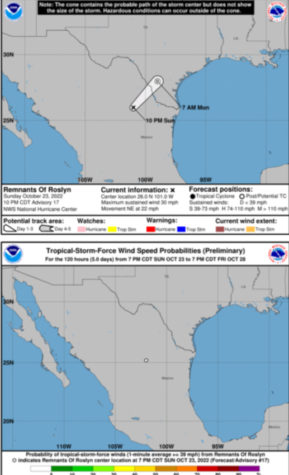 Damaging wind gusts are the main threat with these storms, but a couple of tornadoes are also possible, also after dark. "The issue with severe weather at night, of course, it's too dark to see anything, so if something does pop up, like a tornado, within any of this area, it's going to be blowing through while you are sleeping," FOX Weather meteorologist Britta Merwin explained.
Roslyn had maximum sustained winds of about 120 miles per hour when it made landfall on Sunday, according to the National Hurricane Center.
According to AP news, the storm made its initial landfall around the village of Santa Cruz at a fishing village, about 90 miles north of Puerto Vallarta.
Axios.com reports that Roslyn has been the strongest reported hurricane to hit the Eastern Pacific coast since Hurricane Patatria hit in October, of 2015.
Roslyn has caused dangerous rip tides and rising ocean levels across the coast and it will continue to be unsafe to be near the beach for the coming weeks.