What The Mysterious Benedict Society Could Mean For Percy Jackson
What The Mysterious Benedict Society Could Mean For Percy Jackson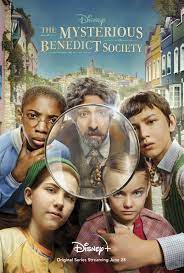 The Mysterious Benedict Society's second season started on October 28, 2022, and it's based on the book series of the same name by Trenton Lee Stewart. The first season originally premiered in 2021.
According to The Guardian, the series follows Reynie Muldoon, George "Sticky" Washington, Kate Wetherall, and Constance Contraire, as they work under the leadership of one Nicholas Benedict. Their mission is to stop the evil Mr. Curtain from putting the "Emergency" into action through their intelligence, and wit. All members of the team stand out in some way throughout the plot. 
Some people may already be familiar with the plot, characters, and just the fun atmosphere of the books and be afraid of the show. However, Disney thought of this and made a show that is pretty spot on to the books. Some changes were made like Curtain not having his wheelchair, and the side plot of Milligan (a bodyguard of Benedict) not having an ongoing struggle against Curtain's Henchmen. However, all major plot points stay the same. 
With Disney making another book series into live-action Percy Jackson, this could be a hint at what we will be seeing. With author Rick Riordan working on the show, this could help the series be accurate to the original book series
According to IMDB, the Mysterious Benedict Society has a 7.5 out of 10 and many good reviews. Will this bring good accurate storytelling for Percy Jackson, or will we have a Percy Jackson movie series on our hands?