Couple Charged in 17-Month-Old's Fatal Overdose of Heroin
A Couple is Being Charged for the Death of a 17-month-old's Child overdose on fentanyl laced with Heroin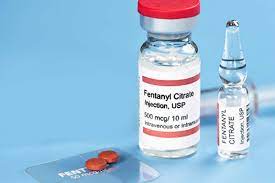 On Sunday, September 4th, a few complaints were made of a resident that lived in Little Canada, Minnesota. On the quest to settle complaints the Ramsey County Sheriff's Office were called to a house on the 200 block of East Country Road B2 at 0315. When they arrive they see Andrea Intveld's 17-month-old child deceased on the ground.
The child died from ingesting heroin laced with fentanyl, that was said to be left near where the child was playing. Andrea Niccole Intveld, 31, is facing two charges of 2nd degree manslaughter. Joseph Tanner Elajah Compton, 28, is facing 3rd degree murder and 2nd degree manslaughter.
Andrea called 911, on Sept. 4th, she called to report that her son had ingested drugs while in the care of her drug addict boyfriend. Andrea told the authorities that she had left her son with her boyfriend, and when she returned she returned to her son being blue and unresponsive. Intveld and Compton gave the little boy multiple doses of narcan. The Sheriff's Office responded to the call and gave first aid to the boy. The child was transported to the hospital, where he was pronounced dead.
The couple had previously been investigated in July for endangering a child by exposing him to heroin. Compton had fled the apartment, but was later arrested. Compton also had a warrant out for him due to domestic assault. Intveld claims that Compton had gotten her son high before, and that she wanted to sue child protective services for not taking her son away from them sooner.