Indonesia Volcano Erupts
Volcano Erupts in Indonesia Causing Evacuation
Early Sunday morning on December 4th, 2022 the Semeru volcano in Indonesia erupted causing a layer of thick gray ash to cover the entire sky for miles on the eastern part of Java Island. This ended up leaving 1,900 people evacuated and unplaced, hundreds are reported injured with the count rising. The Semeru volcano's last major eruption occurred as recently as December 2021, a disaster that killed more than 50 people and injured hundreds more.
New York Times written by The New York Times reports that local authorities from the B.N.P.B (National Agency for Disaster Countermeasure), Indonesia's disaster mitigation agency, have not received any reports of casualties but said that personnel from an array of agencies had performed search and rescue checks through Sunday evening. The B.N.P.B. said that the Center for Volcanology and Geological Hazard Mitigation had also raised the alert level for Mount Semeru to level IV, the highest possible category. More than 20,000 face masks have been handed out to mitigate respiratory health risks from volcanic ash.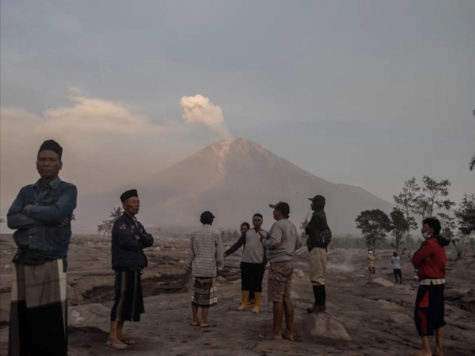 CNN writers Maseru Jamaluddin and Kareem El Damanhoury, report that the agency warned all citizens to stay at least 10 miles away from the eruption site and added the fact that the ash had reached at least 7 miles away from the epicenter. Indonesia, an archipelago of 270 million people, sits on the "Ring of Fire," a band around the Pacific Ocean that sets off frequent earthquakes and volcanic activity. Standing at 3,676 meters (12,060 feet), Mount Semeru is the tallest volcano on Java — and one of its most active ones.
Also reported by CNN, a statement from PVMBG chief Hendra Gunawan said the agency saw the potential for a larger volume of magma from the eruption Sunday.
"Therefore Semeru's hot clouds could reach further (this year) and at that distance there are many residences," he said.
Semeru, also known as Mahameru, has erupted numerous times in the last 200 years. Still, as is the case with many of the 129 active volcanoes in Indonesia, tens of thousands of people continue to live right next to the volcano. Eruptions are a lot easier to predict than the past, however it can not always be relied on, according to NPR.org.