NYC Nurse Strike
New York City nurses go on strike after disliking only 19% pay raise for overworking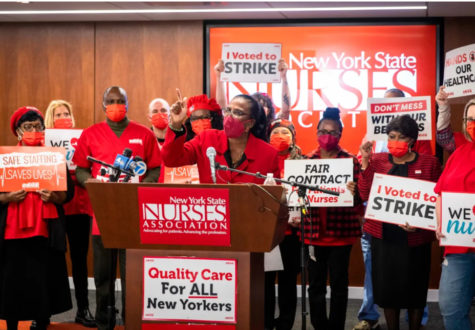 On January 9th, 2022 at 3:30 am approximately 7000 NYC nurses went on strike because of the only 19% pay raise. Nurses say that they are working long hours and unsafe working conditions without getting the money they should be getting working in those conditions. The 19% rise isn't enough to solve all the short staffing that is happening currently in New York City. During the strike the nurses that were in the front line of the union were the ones that were there for the three year battle with the COVID pandemic are saying they no longer can function with the widespread shortages that have been happening over the past few years.
According to CNN.Com hundreds of nurses and supporters were out in the front of Mount Sinai early that morning on January 9th and continued to grow as the morning went on, filling out two city blocks in New York City. A transplant nurse from Mount Sinai had told CNN, "We've been fighting for working under safe conditions," as well as, "We do the best we can every day. There's something wrong inside the hospital. That's why we're outside the Hospital."
Over the past couple of years, Mount Sinai and the other hospital that didn't agree to the wage increase of 19% called Montefiore. They were both on the front line of the battlefronts of the rising pandemic with the long working hours and stress of having to many patients to get to are causing new nurses to be drove away and creating a worse crisis for the staffing and patient care. The strike is helping soon-to-be nurses and nurses to help put more effort into patient care improvement.