Selena Gomez Faces Body Shaming At Golden Globes.
After Selena Gomez Gets Body Shamed, She Responds Back to the Trolls After Her Appearance At The Golden Globes.
At the Golden Globes on January, 10th. 2023, Selena Gomez was nominated for best performance by an actress in a television series – Musical or Comedy for 2023. She earned this nomination by starring in Hulu's "Only Murders In The Building" and also executive producing this show. Selena Gomez appeared at the Golden Globes in a strapless plum colored velvet gown with puffy sleeves and a long train in the back. After online trolls saw her appearance in the outfit, they decided to give their own opinion on her body.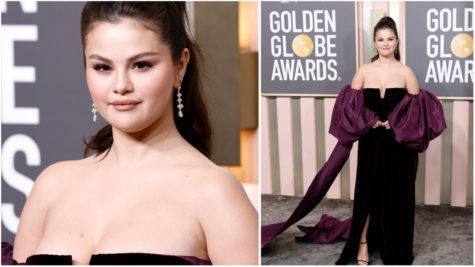 Selena Gomez then realized she has to respond back to these trolls and tell them off for spreading negativity on someone else's body, but Selena also keep it classy with her response so she then explained herself in a sense. "I'm a little bit big right now because I enjoyed myself during the holidays, she said," says Marianne Garvey on January 17, 2023 CNN.com. Selena Gomez was also with her sister, Gracie Teefey, when responding to these hateful comments on her body. Gracie was also Selena's date to the Golden Globes and her response to what Selena said was "yeah!" Which led to Selena laughing like crazy. "The incident comes the same week that the singer came back to instagram, which she'd left a few years ago because of all the negativity." says Chelsea Stewart on January 15, 2023, according to buzzfeed.com. Even after a break from social media from all that negativity, it still came right back to her right after she came back.
Although all of this hate on Selena's body at the Golden Globes is recent, this isn't the first time Selena has spoken about body shaming. She opened up on TikTok about body shaming in April of 2022. "So I am trying to stay skinny, but I went to Jack in the Box and I got four tacos, three egg rolls, onion rings and a spicy chicken sandwich… But honestly, I don't care about my weight because people **** about it anyway: 'You're too small.' 'You're too big.' 'That doesn't fit.' 'Meh meh meh meh,'" she said on TikTok" , says ANI News Agency January 17, 2023 according to Indianexpress.com. Just like that, Selena Gomez handled a bad situation with hate comments spreading wild, in a classy but straight to the point way.