For King And Country And Hillary Scott Have Another Nomination
A Christian and Country Artist Collaborated Song was Nominated for a Grammy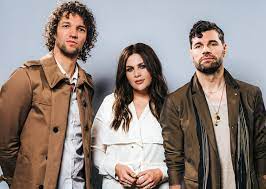 On February 5, 2023, Christian artist for King and Country and Hillary Scott, member of the country band, Lady A, was nominated Best Contemporary Christian MusicPerformance/Song for the song, "For God Is With Us" 
In 2022, the members of 'for King and Country, brothers', Luke and Joel Smallbone which was originally already a hit. It later turned into even more of a favorite when Hillary  Scott from Lady A collaborate with them for a new version. PEOPLE,(article written by Marisa Sullivan on Feb. 5 2023) interviewed Scott on the red carpet, where she said, "Collaboration is, honestly to me, one of the most special things that we get to do in music in general,". Although the information was out the year prior in relation to the Grammys, seeing is believing as they say.
Both parties have won Grammys in the past. For King and Country has won four and has been nominated for seven total, shown on the official GRAMMY website. Lady A has been nominated for eleven and has won five. The country band currently has many performances lined up for the upcoming year. Artists sharing Grammys is not a new thing. It's happened 31 times before this. The talented Smallbone brothers recently performed in the San Diego Padres baseball stadium the week before for a Chick-Fil-A conference where eighty-four people achieved the level of "symbol" for Chick- fil la profits. One operator took a video of the performance on the 31st of January. Although the video was not able to be put into the article it showed just how much the group deserved the nomination. The fact that not only was a Christian group nominated, but a singer in Maverick City also won a grammy.
 Things like this bring hope to Christians around the world. It is a strong hope for this country to happen in the future.