Beyoncé Breaks Grammy Records
Beyoncé Officially Has the Most Grammy's in History.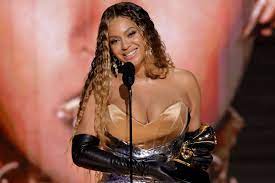 On February 5, 2023, Beyoncé broke grammy records by receiving her 32nd grammy for best dance/electronic album, which was her latest album "Renaissance".
Beyoncé had 88 nominations in total, four in which she won. The previous holder for this record, Sir George Solti, a director of a Chicago-based orchestra, won 31 grammys. Solti was a hungarian-born conductor. He won his last award 1998, which was the year after his death. NY Times provides further information on Beyoncé's win. Her fourth win of the night —which was after taking home Best R&B song for "Cuff It" and two other awards during the preshow ceremony — was presented in a category in which her album "Renaissance" was awarded. Upon earning her award, Beyoncé thanked the queer community, saying "I'd like to thank the queer community for your love and for inventing the genre," which was provided by CNN. 
Furthermore, CNN provided context that "Renaissance" was an acknowledgment towards LGBTQ artists who directly constributed and inspired the album. Grammy host, Trevor Noah, announced that the GOAT debate was over after Beyoncé's win. Ny Times provides that after the winner was announced by James Corden, "This is an honor, because we are witnessing history tonight!" — Beyoncé, who had not yet arrived at the ceremony when she won her first televised award of the night, took the stage to a standing ovation.