A Second Quake has Struck Turkey and Syria
Turkey has Suffered two Major Earthquakes Just This February
When a 7.8 magnitude earthquake struck Turkey and Syria on February 6, buildings were destroyed and deaths started being reported at a frightening rate. Then, a second 6.8 magnitude hit the countries before they had the chance to recover from the first. These quakes have a reported 50,000 casualties combined.
While the first quake may be what caused a majority of the damage in Turkey and Syria, the second quake considerably worsened the disaster. The New York Times' Cora Engelbrecht and Nimet Kirac report the story of a woman, about to return home after specialists told her that her home was still inhabitable, fainting on her front lawn as the second quake tore apart her house. This is not a unique tale among those residing in camps in Turkey and Syria, having the second quake literally destroy all hope.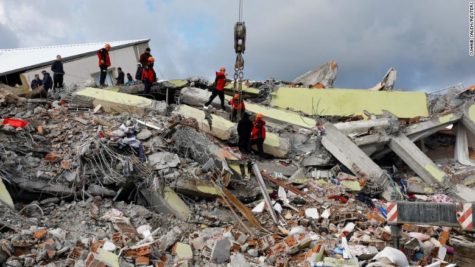 Now many are displaced, and there is a struggle for food and water, and disease is spreading quickly. All the resources that the refugees need are in low supply. There's no easy way of getting food, and water sources are either muddy or simply not functional, thanks to damage to pipes and wells from the quakes. Most supplies are only provided by humanitarian aid organizations. It's looking bleak for many citizens of Turkey and Syria who have remained near the crumbled ruins of their homes.
The effect of the quakes may also extend to drastically alter Turkey's political scene. This is an election year for them, with the election will be held on May 14, which means the earthquakes will likely still be fresh in the people's minds. The current president, Recep Tayyip Erdogan, is still fighting to prove he can lead his country. Natasha Turk, of CNBC reports that Erdogan's re-election chances may be dropping since his reaction to the quakes have faced some backlash. Turk also claims that this natural disaster may have unforeseen impacts on the global scale, considering the now weakened Turkey's political power.
ABC's Edith M. Lederer has reported that the most recent estimation is that the quakes caused at least 50,000 deaths in Syria and Turkey. Lederer also cites that 15.3 million people may need humanitarian assistance.
Hopefully, the people of Turkey and Syria receive the help that they desperately need, and are able to rebuild what they lost. The people remain hopeful that changes will be made and more precautions will be put in place to make sure buildings are able to withstand earthquakes.