Patrick Kane to Broadway
Last Tuesday Patrick Kane finally left Chicago, he is now headed to the big apple to play with one of his former teammates Artemi Panarin. As a duo they got 345 points combined in the two seasons they played together.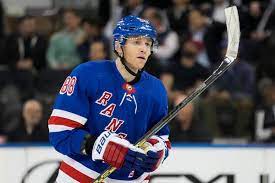 On Tuesday February 28th 2023 Patrick Kane was traded from The Chicago Blackhawks to the New York Rangers after he waived his no-movement clause to join his former teammate and now all star Artemi Panarin. The exchange went as follows. The Chicago Blackhawks will give up Patrick Kane for a conditional second round pick in the 2023 NHL Draft, a fourth round pick in the 2025 draft and defenseman Andy Welinski, who was playing for Hartford in the American Hockey League (AHL). The Rangers definitely got the better deal in this trade, sending basically nothing to the Black Hawks for the former all star Patrick Kane. 
Kane's accolades also make this trade better for the Rangers, winning the Stanley Cup 3 times in his career (2010, 2013, 2015), the Conn Smythe in 2013, and the Hart memorial and Art Ross in the 2016 season, also being named a All-Star 9 times in his career so far. His scoring also makes him a valuable asset to the Rangers, he had scored 1,225 points (446 goals and 779 assists) in 1,161 games as a Blackhawk with his highest scoring season being the 2018-2019 season scoring 110 points in only 81 games
On the other side of the trade was Andy Welinski and two draft picks. The Blackhawks definitely lost this trade losing one of their best players in franchise history for close to nothing. First, Andy Welinski, he got merely 6 points in his NHL career at 29 years old. His low point total makes a little sense mainly because he only played 46 NHL games in 3 total seasons so far. The draft picks on the other hand could turn into anything, though they aren't 1st round picks but still picks and there have been good players picked late in the draft before so anything is possible.