Historical Arrest of Former President Donald Trump
This Was The First Time That A Former American President Would Be Arrested
Donald Trump, the President of the United States from 2017 to 2021, arrived in New York to be detained by police on April 3, as he faces 34 felony charges. He was indicted by a Manhattan grand jury on March 30 for the alleged affair with adult film actress Stormy Daniels after giving her hush money in 2006, which was first reported before the 2016 presidential election by the Wall Street Journal. This will be the first time since 1872 that an American president has been arrested. The first president was Ulysses S. Grant, who was only arrested for speeding in his horse buggy.
President Grant was apparently caught speeding many times by Washington police, says Cathy Lanier, chief of Washington D.C.'s Metropolitan Police Department, according to CBS.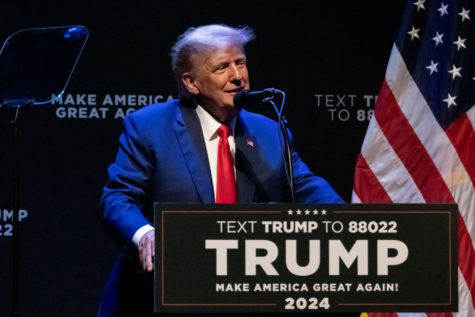 As the former president arrived in New York on April 3, numerous Trump supporters, and news outlets, camped outside of his self-titled tower. Police created barriers across the streets to the building so that nobody has to fear another overturning would occur, echoing the infamous Capitol Building storming that happened on January 6, 2021. Trump had ordered his supporters to walk down to the Capitol Building. Eventually, the protest turned into a deadly confrontation between the government, the national guards, and his supporters. On the same day, New York City Mayor Eric Adams told supporters to "be on your best behavior" in case something like that might happen.
Donald Trump was staying at his self-titled tower in Midtown Manhattan. Sometime on April 4, Trump would go to a courthouse to announce his charges. However, some specific charges have remained under seal. And for many people still wondering, cameras will likely not be allowed in the courtroom, said the judge. And that Trump will not have a mugshot taken, as Manhattan District Attorney Alvin Bragg and New York City officials decided that putting the president through a normal procedure was unnecessary, according to the Independent.
Although there are no state laws that prohibit hush money payments, Alvin Bragg charged Trump with 34 felony counts for falsifying New York business records through a catch-and-kill scheme that was designed to conceal potentially damaging information and unlawful activity prior to the 2016 election. Trump pleaded not guilty to each of the counts before Judge Juan Merchan appeared.
Donald Trump left the New York City courthouse and returned to his Mar-a-Lago residence in Palm Beach, Florida. He delivered a speech listing multiple grievances from his arrest and from his FBI search at Mar-a-Lago that happened almost a year ago over classified records of President Joe Biden's son, and records about the 2020 election, which he lost, according to USA Today.
President Biden told reporters on March 31 that "I have no comment on that. I have no comment on Trump." For a final time, he replied, "No I'm not going to talk about the Trump indictment" before he left the White House for Mississippi to view recent tornado damage, and to go to Delaware for that weekend.
USA Today claims if Biden remains silent about the indictment, Trump would make claims of a rigged justice system. Trump made popular claims that the 2020 election was rigged and that it was stolen.
But it's unsure if he will or will not make those same claims in his next court appearance, which won't be until December 2, according to The Hill.