BREAKING NEWS: Louisville Bank Shooting
A Shooting at a Louisville Bank Leaves 6 Dead and 9 More Injured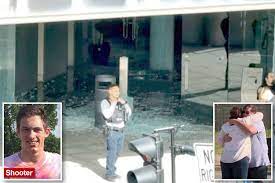 Six people were killed and nine others were injured after a bank employee opened fire on a bank in downtown Louisville. He was killed by police in a shootout.  The bank in question was the Old National Bank in the center of Louisville and the attack started at 8:30 a.m. on April 10. The shooter was identified as 25-year-old Connor Sturgeon, who was reportedly using an AR-15 semi-automatic rifle. Sturgeon had told others that he was suicidal before the shooting and he purchased the firearm at least a week in advance. No motive has been announced as of yet. 
Sturgeon also live-streamed the attack on Instagram. Meta released a statement saying that it "quickly removed the live stream of this tragic incident." The video began by showing the AR-15-style weapon, which was followed by a worker greeting Sturgeon. He then shot her in the back, but he's unable to since the safety is still on and the gun isn't loaded. Once he manages to take the safety off and load the gun, he shoots the woman in the back. Her identity and condition aren't known at this time. Sturgeon continued his attack, firing at people who tried to run away from him, as reported by CNN. Once Sturgeon was done firing, he sat down in a lobby area, seemingly waiting for police to arrive. Once officers responded to the scene, a shoot-out took place. Police quickly shot and killed Sturgeon.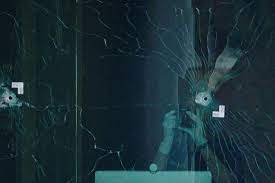 According to the New York Times, police released body camera footage on April 11, which showed officers pulling up to the building. The footage showed a gun battle and a rookie officer was shown being shot and his training officer was quick to kill Sturgeon. The officer who was shot was identified as 26-year-old Nickolas Wilt. He was shot in the head and remained in critical condition. The other victims of the crimes have been identified as Thomas Elliot, James Tutt, Joshua Barrick, Julianna Farmer, and Deana Eckert. Stugeron had joined the company officially a year prior, after spending three summers interning at the company, according to BBC. However, he had been recently told that he was going to be fired and he had even written a note detailing his plans for the shooting before going to work. 
This wasn't the only shooting in Louisville either; another shooting took place at a community college, where one person was killed and another was injured. The Jefferson County Community and Technical College, where the shooting took place, tweeted that the college was going into a lockdown and then later closed. AP News reported that when police were called to the scene, they found two victims that had been shot. A man was pronounced dead at the scene and a woman was taken to University Hospital. The extent of her injuries is not known at this point in time.