McDonald's Is Upgrading Their Signature Burgers
McDonald's Plans to Implement the Upgrades at all of its Restaurants in the United States by 2024
McDonald's has been focusing on upgrading their ingredients to improve their signature burger, like making their buns softer. McDonald's promises that its buns will be "softer" and more "pillowy" than its existing offerings. The grilling process is being modified to get a better sear on each burger patty, and the chain will make unspecified "tweaks" to its burger assembly process "to get hotter, meltier cheese."
"We found that small changes, like tweaking our process to get hotter, meltier cheese and adjusting our grill settings for a better sear, added up to a big difference in making our burgers more flavorful than ever," said chef Chad Schafer, senior director of culinary innovation of McDonald's USA, in a statement on April 17, according to CNN.
The upgrades apply to the Big Mac and the McDouble burger as well as the classic cheeseburger, double cheeseburger, and hamburger, according to CBS News. But the Big Mac will get a larger squirt of Big Mac sauce — a proprietary combination of mayo, mustard, relish, vinegar, and seasoning.
The new-and-improved burgers are already being sold in West Coast McDonald's markets including Los Angeles, Seattle, Las Vegas, and Denver, as well as internationally in Australia, Canada, and Belgium. They'll be available across the country by early 2024, says the company.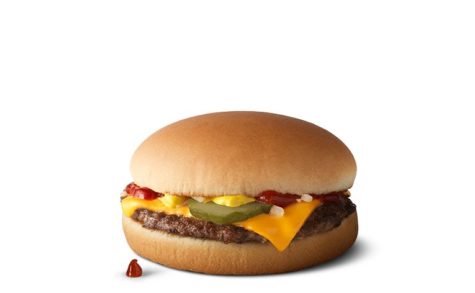 McDonald's is bringing back the Hamburglar to market the changes, which will be available at restaurants nationwide by 2024. The upgrades were first introduced in international markets like Australia, Canada, and Belgium. They've already started rolling out in several markets on the West Coast, including Los Angeles, Seattle, Portland, San Francisco, Sacramento, Phoenix, Las Vegas, Salt Lake City, Denver, Boise, Tucson, and surrounding cities.
"Our classic burgers are what made McDonald's famous. They've become a cultural icon over the years. We saw the opportunity to make a few changes in our kitchens to make them even more delicious and get back to what people loved most about them in the first place… making them hotter, juicier, and tastier," Tariq Hassan, McDonald's USA chief marketing and customer experience officer, said in a statement. "To get the word out, we're bringing back a McDonald's favorite—the Hamburglar… because what better way to show just how good they are than to turn the most notorious burger thief loose in our marketing campaign, as he tries to get his hands on our best burgers ever," according to QDR.
The changes are the latest in a series of initiatives aimed at improving the quality of food at McDonald's. In 2021, the company launched a new line of upgraded chicken sandwiches. In 2018, it switched to fresh beef for its Quarter Pounders and started serving the burgers made-to-order. 
The latest changes come on the heels of a strong year for the brand's domestic segment. McDonald's saw net unit growth in the U.S. for the first time in eight years in 2022. Same-store sales for the segment grew 10.3 percent in Q4 and were up 5.9 percent on a full-year basis.
The company has focused on promoting its main menu items to keep operations simple and reduce friction inside the kitchen, and it's been leveraging promotions like celebrity meal platforms and adult Happy Meals to generate buzz around core offerings. 
"Throughout 2022, some of our most successful campaign platforms brought our customers closer to the core menu items," CEO Chris Kempczinski told investors in January. "In an environment where our customers are looking for the simple and familiar, our core menu items have never been more relevant."