The Owl House Has Ended
The Hit Disney Show has Ended With a Shortened Third Season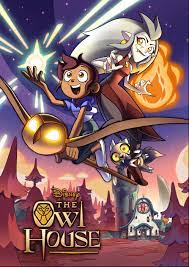 The final episode of The Owl House aired on April 8, 2023. This was a 55-minute special, wrapping up the Disney Channel show after two seasons because of a cut down to three episodes for the final season.
The story of the Owl House follows Luz Noceda, a rambunctious teen. When Luz is sent to a camp for the summer, she sneaks off and finds a portal to a demon realm called the Boiling Isles. While in the Isles, Luz acquires a found family of a witch named Eda, and King, a small creature native to Isles. Luz also makes friends with some kids of the Isles who are more or fewer outcasts from more popular magical children; these friends include: Willow, Hunter, Gus, and Amity. Over the first season, Luz and Amity fall in love. This was something that caused issues with parents and the Disney Company. 
The Los Angeles Times reported that the story of the Owl House is another LGBTQ+ representation that shows that by pushing the boundary in storytelling can lead to a higher chance of being canceled before a fitting end. The Owl House had many queer representations with a bi-sexual lead character, many other identifications (like lesbian Amity Blight), and nonbinary (Raine Whispers). This could have been what led to the shortening of season 3. However, Danna Terrace and her crew of writers and animators did a great job of telling the story of the Owl House despite this "curse". Hopefully, we may see more from this world, but little is known about if we will get any more stories from the Boiling Isles.