Constitution Rocks We the People
Constitution students place third in statewide competition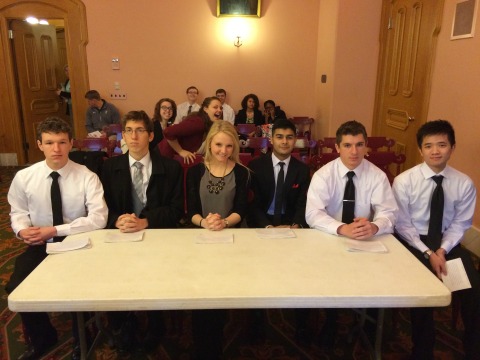 On January 23, Ms. Erin Snowden and a team of Constitution-savvy students travelled to the State House in Columbus to be a part of the "We the People" state competition put on by the Ohio Center for Law-Related Education.
The twenty-four students in the Constitution class defended constitutional rights and theory in front of state judges, law professors, and Ohio Supreme Court justices.
The competition involved four minute statements prepared by teams. Judges then asked questions with the expectation of the application of constitutional theory strengthening the team's position.
In order to prepare, the students came in to school early, left late, and even came in on teacher workdays. From November up to the competition, the team was working on perfecting their statements, follow up question responses, and staying up to date on current events.
"It was presenting all we had learned the last semester," said senior Virpal Cheema.
The results of the competition proved to be well worth the effort.
"We've been working on our statements every day since the beginning of second quarter. It was nice to see everything come together," said junior Austin Baker.
The Northmont Constitution students placed third overall.
"That's the highest I've personally ever placed with a team," said Snowden.
Rachel Callopy, Alex Morgan, Brayden Haskell, and Josh Fairenet brought home medals as a team, winning first place in their unit.
"The most exciting part of it all was knowing that our hard work paid off," said junior Rachel Collopy.
Congratulations to all of the Northmont Constitution students.