Review: The Duff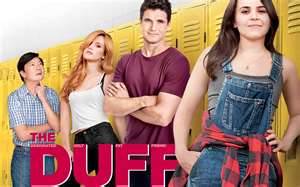 The Duff is originally a book written by seventeen year old, Koby Keplinger. The main character, Bianca (Mae Whitman), is a high school senior whose world is shattered when she discovers the entire student body knows her as the 'DUFF' (Designated Ugly Fat Friend) to her prettier and more popular friends. Despite the warnings from her teacher and best friends, Bianca hires Wesley (Robbie Amell) to help her become more 'dateable' to win over the heart of her crush, Toby. To save her senior year, Bianca must overthrow the school's label maker, Madison (Bella Thorne), and remind everyone that we are all someone's DUFF.
At first, The Duff seemed like a cliché chick flick where the girl suddenly turns beautiful and she gets the guy, but I was surprised when the movie was nothing like I expected. I found myself relating to the movie and actually laughing. Bianca is a genius character being nerdy, sarcastic, and funny and I found myself laughing at almost everything she did. I enjoyed how she was not the normal female heroine. Bianca constantly wore overalls, flannels, and had obsessions with things like zombies.
Bianca and Wes had a great connection and they seemed to have a great relationship together. The acting was so good, I believed the two were old childhood friends. It was great to see a movie with such great acting.
The only complaint I had was Mae Whitman being the DUFF. Mae Whitman is not ugly nor fat which made me a little upset that she was the DUFF. Although the movie addressed that a DUFF does not have to be ugly or fat, I was still slightly disappointed.
My only advice is to not see this movie with either of your parents. The movie was a perfect view of high school, including the inappropriate jokes and sexual suggestions high school students make. The Duff is definitely a movie everyone should see.