Will You Go To Prom With Me?
Promposals Leave Their Mark at NHS
It's that time of year again when girls go searching above and beyond for the perfect dress and the perfect shoes, as they plan the perfect makeup, the perfect nails, and the perfect tan. It's prom season! Prom is supposed to be this magical night of getting dressed up, getting your pictures taken, going out to eat, dancing, and having fun. However, there is incredible pressure involved, and the most stressful aspect can be the way you ask your date to go to prom with you.
"I think it takes a lot to ask another person to prom. You get really nervous because you don't want them to say no and you want to ask them in a cute way. I really think that as long as you don't ask them over text anything you do would be cute," said junior Olivia Williams.
According to societal trends, asking a girl nicely just isn't enough these days. People are now expected to get really creative on how they ask their date.
"My date took my phone at a basketball game and put a picture of the both of us for his contact picture and then as his contact he put 'will you go to prom with me'?" said junior Kyleigh Denson.
Asking with food is another possibility, such as buying a pizza and in the toppings and have it spell out "prom?". If you want to do something with food but want something other than pizza, you could ask your date using another type of food, like donuts. Every girl loves food and will most likely say yes just because you brought her food.
"My picture of the perfect promposal would have to be done in front of other people, so there would be cute pictures and so others to see how cute my promposal would be. I wouldn't mind if he got me Chick-Fil-A and asked in a semi-cute way. I think it would also be cute if he got anoutfit for me to wear and told me to be ready then took me out to a nice dinner or something," said junior Kayla Woodruff.
Another idea is to show up at your prospective date's front door with her favorite flowers or candy. If you want something bigger or more extravagant, you need to think outside the box. If you find it difficult to think outside of the box, Pinterest has a variety of ideas that are over the top.
"Adrian (Matzke) picked me up and took me on a walk at the Englewood Dam and then we went out to dinner. When we were done with dinner we went back to his house just to hang out. He said he forgot to do something and five minutes later comes back down and says the stars are out tonight and there's a constellation that can be seen once a year and it's out tonight. He told me to close my eyes while he led me out into his sun room and on the table prom was written in lit tea candles and there were a dozen roses in the corner. It was perfect and I couldn't have asked for a better way to be asked to prom," said senior Cassie Boegel.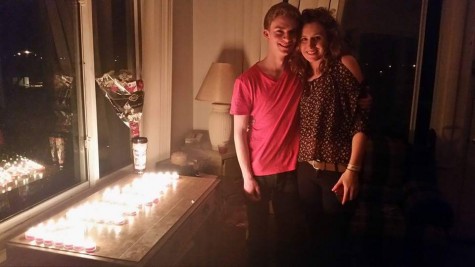 We all know it can be the other way around. There is nothing wrong with a girl asking a guy to prom.
"I have to find a way to ask my date to prom because he goes to another school," said junior Brittany Weatherford.
Regardless of what you decide, make your promposal special and something that your date will never forget.
——
Promposals are being featured in the 2015 yearbook. Tweet a picture of your Promposal @NorthmontYBK for a chance to be featured and win a prize!